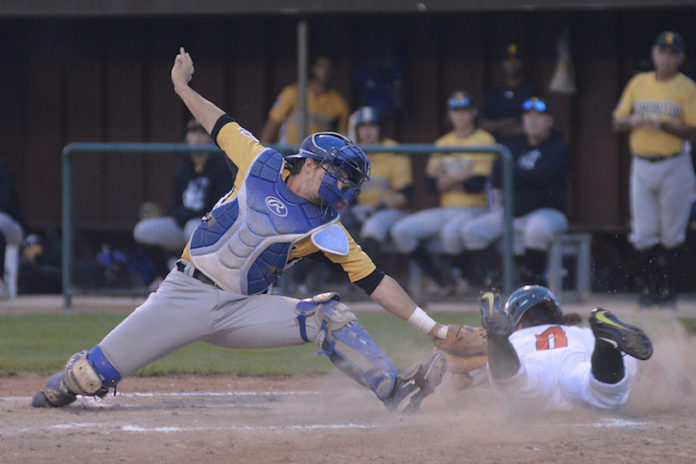 Riley Campbell led off with a home run and the Swift Current 57's never looked back in a 13-7 win over the visiting Edmonton Prospects in the opening game of the best-of-five Western Major Baseball League championship series Sunday.
The 5'9'', 175-pound Campbell hammered the fourth pitch from 6'3'', 220-pound lefty Eric Sabrowski over the left field fence and then raced around the bases for the first of four home runs for the home team.
"I just saw a fastball that I could drive. I wasn't trying to do too much with it. I just got my barrel to it and lucky for me it kind went far," said the Wadsworth, OH native.
The 57's would add four runs in the second inning, highlighted by a two-run home run from Brett Esau. Campbell homered again during a two-run fourth inning and Esau homered for a second time during a four-run fifth inning as the 57's built up an insurmountable 13-1 lead.
Bodie Cooper finished with two doubles and four runs batted in during a three-hit evening. Esau also had three hits, three runs scored, and three RBI.
Starter Matt Michalski ensured the victory with seven innings of one-run ball, scattering five hits and five walks to go along with four strikeouts.
"He had a day, made it easy for the hitters. He got us in there quick, no long innings from him. He did work out of one jam, which was great to see. He had a great start. What a way to set the tone. He definitely set the tone for the series," said Campbell.
Sabrowski had entered the game with a 0.00 earned run average over 15.2 playoff innings before the 57's roughed him up for six hits and five runs over three innings. They added nine hits and six runs off reliever Brandon Hill as the Prospects were forced to use four pitchers.
"We keep it simple up at the plate," said Campbell. "We keep it simple to a point where we see it and hit it and try to hit it hard somewhere. What happens after that happens. I always try to go back up the middle. I am not trying to pull the ball, not trying to put the ball oppo gap. I know a lot of our guys on the team just try and swing hard and make good contact."
The 57's have now scored 39 runs in three games against Edmonton this season. The series will continue with game two in Swift Current Monday at 7:05 p.m.
"Game two is just a clean slate for both teams. We got the momentum and we have to keep it. That's the big thing about baseball, momentum. But we have to come back ready to play tomorrow," said Campbell after finishing with four hits, three runs scored, three runs batted in and one stolen base.