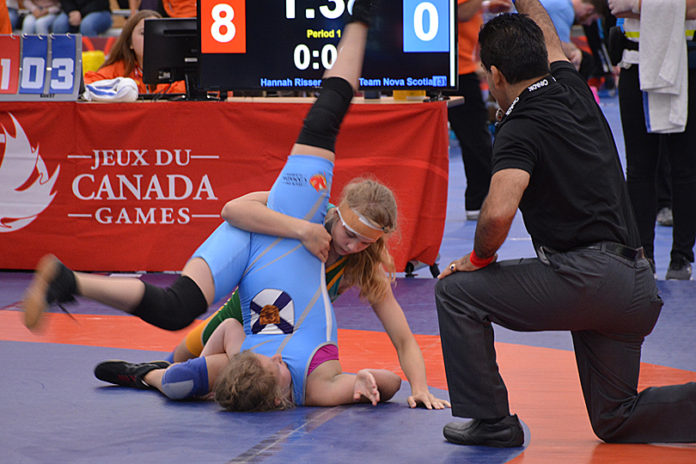 All seven second-half athletes from the Southwest were in action at the 2017 Canada Summer Games in Winnipeg Thursday.
Aleah Nickel won both her 56 kg round robin wrestling matches on Thursday to improve to 4-0 during the team event. She defeated Tanya Tugak in 56 seconds by pinfall as Saskatchewan defeated Nunavut 50-0.
She also edged Sofia Santoro 10-8 in Saskatchewan's 38-13 loss to Alberta to finish second in their pool with a 4-1 record.
Saskatchewan faced Ontario for bronze on Thursday evening and lost 48-7 to place fourth overall. Nickel was the only Saskatchewan wrestler to defeat an Ontario opponent when she pinned Raquel Vengroff in 2:02 to finish 6-0 in the team competition.
The Saskatchewan men also finished second in their pool with a 4-1 record. They opened the day with a 49-5 win over Nunavut when Austin Shopa won by forfeit.
Saskatchewan concluded the round robin with a 43-8 loss to British Columbia. Shopa lost his 98 KG match 10-6 to Argot Gill.
The Saskatchewan's men's team took on Quebec for bronze Thursday evening but lost 35-16 to place fourth as well. Shopa pinned Thomas Rizk after 5:39 to pick up one of his team's three wins over Quebec.
The individual wrestling competition will take place on Friday.
Tobi Ojo and the men's soccer team got in the win column with a 3-1 win over Prince Edward Island in the consolation round. They will face Yukon on Friday to conclude the tournament.
Saskatchewan's men's volleyball team, featuring Swift Current's Braedon Friesen and Henry Rempel,  lost their final round robin game to Quebec on on Thursday in straight sets (22-25, 20-25, 27-29) to place third in their round robin group with a 3-2 record. They next dropped the quarter-final to Alberta (20-25, 16-25, 9-25).
Swift Current's Tyler Piercy-Servant placed fourth in his Special Olympics 50 Metre Backstroke heat in 52.08 seconds but was unable to qualify for the final.
Gull Lake's Jenae Ruetz also swam in the Special Olympics 50 meter Female Backstroke but was disqualified.