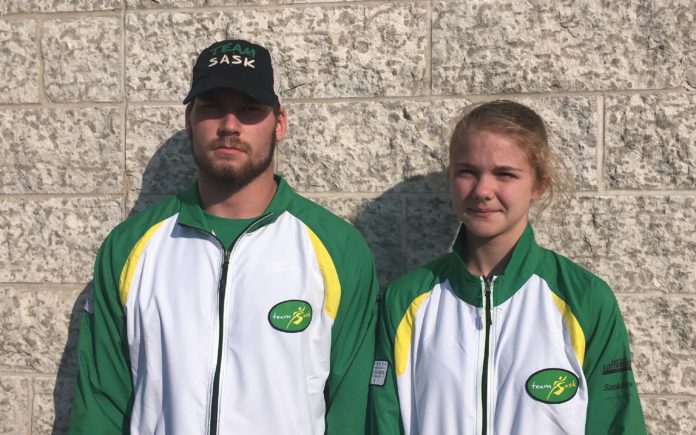 The wait was well worth it for two Swift Current wrestlers as they combined to finish 6-0 in their Canada Summer Games debuts Wednesday.
Aleah Nickel won all three of her matches by pinfall to help Saskatchewan's female team to a 3-0 record on the opening day of the team competition in Winnipeg.
She pinned Hannah Risser in a 56 kg match after only 1:27 to help Saskatchewan defeat Nova Scotia 31-17.
Saskatchewan faced the host Manitoba squad next and won nine of 10 matches for a 41-5 victory, including another pinfall win from Nickel over Jessica Johnson.
Saskatchewan ended the day with a 45-5 win over Newfoundland and Labrador. Nickel made quick work of her opponent when she pinned Emma Terry in 30 seconds.
Austin Shopa also finished 3-0 for the men's team. He won by forfeit in Saskatchewan's 40-14 win over Prince Edward Island. Shopa added an 11-0 victory over Owen Warren in a 98 kg match as Saskatchewan defeated Newfoundland and Labrador 46-6.
He helped Saskatchewan slip past Team New Brunswick 26-25 with a 10-0 win over Corey Steves to secure four crucial points for his team Wednesday evening.
The Saskatchewan men will continue the round robin on Thursday against Nunavut and British Columbia. The female team will face Nunavut and Alberta on Thursday. The individual wrestling competition will follow on Friday.
Saskatchewan won their only men's volleyball match of the day to improve to 3-1. Swift Current's Henry Rempel and Braedon Friesen helped Saskatchewan defeat Team Yukon in straight sets (25-15, 25-7, 25-11) on Wednesday.
Saskatchewan will face Quebec (4-0) on Thursday in their final match of the round robin.
Gull Lake's Jenae Ruetz placed sixth in her heat in in 2:28.45 in the Special Olympics 100 Metre Backstroke on Wednesday.
Swift Current's Tyler Piercy-Servant also swam in the Special Olympics 100 Metre Backstroke and finished fifth in his heat on 1:58.81.
Tobi Ojo and the men's soccer team were idle on day three. They will face the Northwest Territories in a consolation round match on Thursday afternoon.