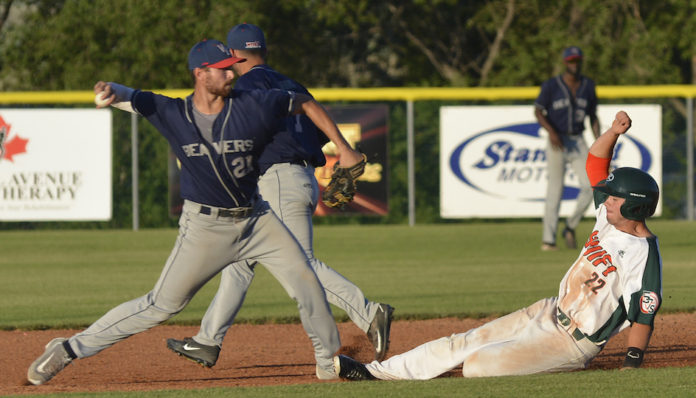 The Swift Current 57's will continue their title defense against the Weyburn Beavers in the second round of the Western Major Baseball League playoffs. The best-of-five series will begin Monday and Tuesday in Swift Current.
The 57's topped the Eastern Division, finishing three games ahead of Weyburn, but won only twice in eight attempts in head-to-head meetings.
5
league all-stars for the 57's – Blake Adams, Bobby St. Pierre, Bodie Cooper, Riley Campbell, and Brett Esau
1
league all star from Weyburn – pitcher Connor Dinaro
3.29
earned run average for the 57's pitching staff over 48 regular season games to lead the WMBL
3.77
earned run average for the Beavers, second in the WMBL regular season
2.00
earned run average for 57's during four post-season games to lead all teams
3.65
post-season ERA for Weyburn versus Regina
130
stolen bases by the 57's to lead the WMBL during the regular season
37
stolen bases in 48 games for Weyburn, second last in the league
35
stolen bases from 57's third baseman Riley Campbell to lead the league
51
home runs for the 57's to lead the league in the regular season
23
home runs for Weyburn, ninth in the league
6
post-season home runs for the 57's to lead the league
4
number of 57's with seven or more home runs during regular season – Blake Adams, Brett Esau, Bodie Cooper, and Keil Krumwiede
0
number of Beavers with seven home runs after Ulysses Fluellen led the team with five home runs
4
Weyburn Beavers who hit .412 or higher during a 3-1 series win over the Regina Red Sox – Carlos Flores (.467), Luis Jimenez (.450), Evan Weidner (.444), and Zach Mathis (.412)
2
57's above the .412 mark in the post-season – Riley Campbell (.438) and Mason Brown (.429)
18-8
The 57's record at Mitchell Field this season
18-8
The 57's record on the road this season
The Edmonton Prospects and Medicine Hat Mavericks will meet in the Western Division championship series. Swift Current would have home-field advantage in the league championship series after Edmonton eliminated the top seeded Okotoks Dawgs.