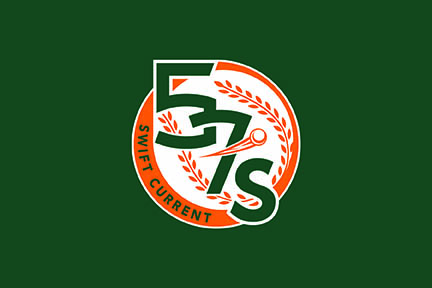 The Swift Current 57's will enter the Western Major League playoffs with no shortage of momentum on the strength of a seven-game winning streak. The 57's defeated the host Moose Jaw Miller Express 14-9 Sunday in a preview of the first round of the Eastern Division playoffs.
The game was meaningless in the standings, but was highlighted by the 57's seven-run seventh inning, capped by a two-run blast from Blake Adams to set a new franchise record with his 12th home run of the season, moving past teammate Brett Esau and Nik Gumeson. Adams finished the game with four runs batted in to finish the season with 54, also a new franchise record.
Riley Campbell finished the game with three hits and three runs scored. Nick Canas added two hits, a walk, two runs scored, and three RBI. Campbell stole one base to lead the league with 35 on the season. Matt Bondarchuk stole two bags Sunday to finish second with 34 on the season.
The 57's concluded the regular season with a 33-15 record, 10 games ahead of Moose Jaw (23-25).
The best-of-five series will begin Tuesday at 7:05 p.m. at Mitchell Field in Swift Current. Game two will be Wednesday in Swift Current, followed by games three and four on Thursday and Friday in Moose Jaw. Game five, if necessary, would be played Saturday in Moose Jaw.
The two teams split the six-game season series.
"It is going to be a battle. They played us tough all year. They are a team that can swing it, they can pitch it, and their record doesn't indicate how good of a team they are. It is going to battle and it should be a fun series," said coach Joe Carnahan.
"Moose Jaw is a pretty good team, they played us well. We just need to come out and play how we know how to play and we should be able to take care of business," added Adams.