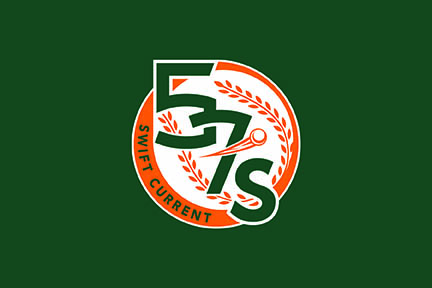 The Swift Current 57's secured a one-game lead in the Western Major Baseball League's Eastern Division with an 8-3 win over the visiting Yorkton Cardinals Thursday.
Bobby St. Pierre improved 5-4 as he allowed only three hits and two unearned runs without allowing a walk and striking out five over six innings.
Will Blanchard and Trey Taylor each added scoreless relief appearances to help close out the win.
Nick Canas scored the first run of the game in the third inning when he came home on a wild pitch after being hit by a pitch, stealing second, and advancing to third on an error.
The Cardinals took the lead with two unearned runs in the fifth inning, but the 57's responded quickly with four runs in the bottom of the inning. Blake Adams doubled home Canas and Matt Bondarchuk to set a new franchise record with 48 runs batted in this season. Brett Esau followed up with a two-run home run, his 10th of the season.
The 57's added three runs in the seventh inning beginning with bases loaded walks from Riley Campbell and Brown. Campbell also came around to score on a fielder's choice to make it 8-2.
The 57's improved to 29-15, one game ahead of Regina with five games remaining in the regular season. Yorkton dropped to 10-35 with their ninth straight loss.
The 57's will be in Regina for a double header on Friday.