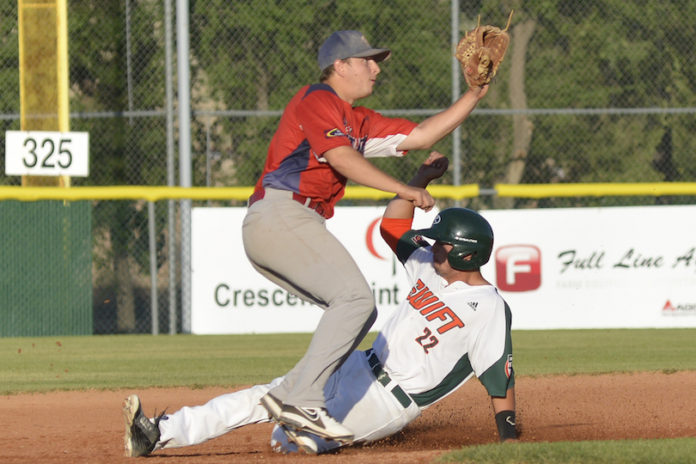 The Swift Current 57's moved into top spot in the Western Major Baseball League's Eastern Division with a 14-1 win over the visiting Yorkton Cardinals Wednesday.
The 57's flexed their offensive muscle with 12 hits, including three home runs. The 57's got all the offense they needed with four runs in the first inning, capped by a three-run home run from shortstop Brett Esau. Designated hitter Blake Adams added a pair of two-run home runs to put the game well out of reach. The 57's also added a five-run seventh inning for good measure.
Lefty Dustin Wells improved to 5-0 as he held the Cardinals to eight hits, no walks, and one run, while striking out five. Garrett Goodall came on to get the final three outs.
Matt Bondarchuk finished with four runs scored, one hit, three walks, one run batted in, and two stolen bases. First baseman Bodie Cooper also had three hits, two RBI, and two runs scored.
Riley Campbell also stole his 30th base of the season, leaving him one ahead of Bondarchuk for the league lead. Adams moved into second in the league with 10 home runs, while Esau is now tied for third with nine home runs this season. Adams is also third in the league with 46 runs batted in, now tied with Eros Modena (2014) for the franchise record.
The 57's improved to 28-15 to move past the Regina Red Sox, who lost to Okotoks, for top spot in the division. Yorkton dropped to 10-34 with their eighth straight loss.
The two teams will rematch at 7:05 p.m at Mitchell Field.