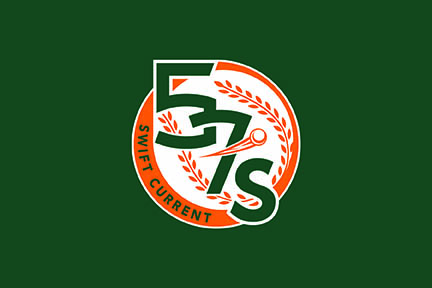 The Swift Current 57's outhit the host Fort McMurray Giants 13-3 but needed four unanswered runs to earn a 4-2 win at Shell Place Wednesday.
Fort McMurray opened the scoring with two runs in the bottom of the second inning when they grouped all three of their hits into one inning to take a lead that held up until the seventh inning.
The 57's finally got on the board in the seventh inning when Blake Adams singled with the bases loaded to score Riley Campbell and Cole Thibodeau. Kyle MacDonald added a sacrifice fly to score Nick Canas for a 3-2 lead. Brett Esau added a solo home run in the ninth inning to close the scoring.
Starter James Smith improved to 5-0, allowing only the three second-inning hits and two runs, while walking only one over eight innings. Keil Krumwiede got the save with a flawless ninth inning.
Swift Current improved to 21-11 and remains tied for top spot in the Eastern Division after a second straight win over the Giants, who dropped to 11-21.
The 57's will continue their road swing with games in Edmonton against the Prospects on Thursday and Friday in a rematch of last year's WMBL championship series.
Extra innings: With four stolen bases, the 57's reached the 100 plateau on the season, 40 more than the next closest team. Campbell continues to lead the league with 27 stolen bases, while Matt Bondarchuk is tied for second with 22. Shortstop Grant Van Scoy swiped two bags Wednesday, while Adams and Esau each stole one base.