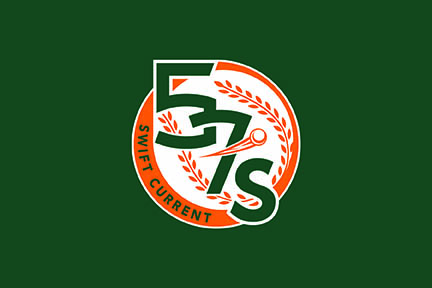 The Swift Current 57's stretched their winning streak to four games with an 8-3 victory over the host Melville Millionaires Thursday.
The 57's scored at least one run in each of the first six innings and got five scoreless innings from right-handed pitcher Jagger Harjo in his 57's debut. The Midwest City, OK native allowed only two hits and two walks while striking out three in his first game since joining the team. Garrett Goodall, Trey Taylor, and Keil Krumwiede all pitched in relief.
Offensively, the 57's only had eight hits, but added eight walks, three hit by pitches, three stolen bases, and took advantage of two Melville errors.
Second baseman Riley Campbell led the way with a double, single, two walks, a stolen base, three runs scored, and one run batted in. Campbell continues to lead the league with 25 stolen bases in 26 games without being caught once.
Blake Adams singled twice, scored once, and added two RBI with two sacrifice flies.
The 57's improved to 18-9 to remain second in the Western Major Baseball League's Eastern Division. Melville dropped to 6-22.
The 57's will be in Moose Jaw Friday for a third straight road game against the Miller Express (15-14).