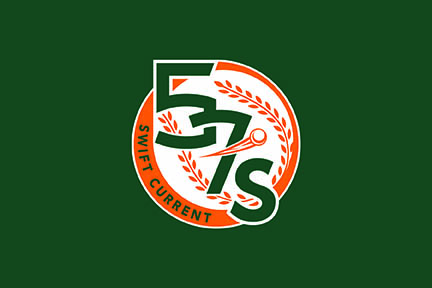 The Swift Current 57's stretched their winning streak to three games with a 9-2 win over the host Yorkton Cardinals Wednesday.
The 57's only outhit Yorkton 10-9, but walked eight times, were hit by two pitches, stole eight bases, and took advantage of two errors.
The 57's fell behind in the second inning but responded with two runs in the third inning when Matt Bondarchuk singled home Ben Andrews and Cole Thibodeau scored on a fielder's choice.
They added two runs in the next inning when Andrews singled home Bodie Cooper and Nick Canas scampered home on a Bondarchuk sacrifice fly.
Andrews scored on a Campbell sacrifice fly in the sixth inning to make it 5-1. They added two runs in the eighth inning when Blake Adams and Kyle MacDonald notched back-to-back RBI doubles.
The 57's continued to score in the ninth inning with two more runs when Thibideau doubled home Canas and Andrews scored on a fielder's choice.
Thibodeau finished the game with two hits, three walks, two runs scored, and an RBI to improve his average to .354 on the season. Bondarchuk finished with three RBI and stole two bases, while Adams and Andrew both had two-hit outings. Riley Campbell and Grant Van Scoy also stole a pair of bases.
James Smith improved to 4-0 as he scattered nine hits, three walks, and two runs over 6.2 innings. Aidan Goodall helped secure the win by getting four outs without allowing hit. Fernando Pena took the mound in the ninth inning and retired all three batters to conclude the win.
The 57's improved to 17-9, while Yorkton dropped to 7-19 with a fourth straight loss.
The 57's will continue a three-game road swing in Melville on Thursday.