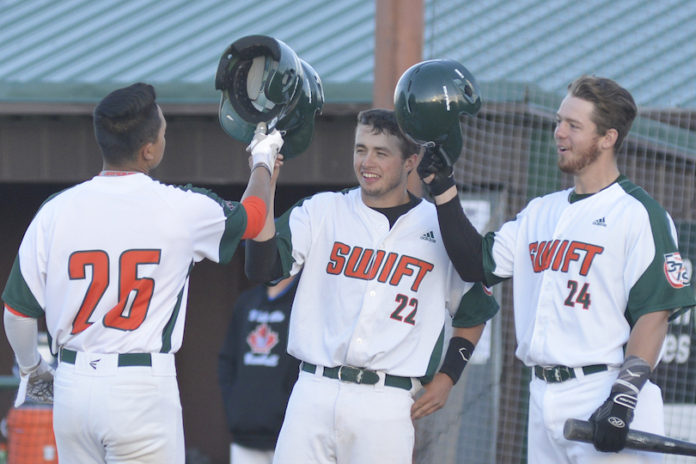 The Swift Current 57's slammed the door on a two-game losing streak with an 18-5 win over the visiting Melville Millionaires when they knocked out 21 hits and stole six bases Friday.
The game was tied 5-5 heading into the bottom of the fifth inning before the 57's scored five runs and then added six more in the following inning.
James Smith got the win, allowing six hits, five walks, and five runs over six innings with four strikeouts to improve to 3-0.
Trey Taylor, Sean Chandler, and Cole Thibideau all made scoreless relief appearances to hand Melville their seventh consecutive loss.
Nick Canas led the offense with a home run and a double and five runs batted in as 10 different players came around to score, nine different players had a hit, and eight different players registered at least one RBI.
Bodie Cooper continued his recent hot streak with two hits, two runs scored, and four RBI.
Leadoff man Matt Bondarchuk finished with three hits, three runs scored, three RBI, and two stolen bases. The Edmonton product leads the WMBL with 15 stolen bases, one ahead of teammate Riley Campbell and Yorkton's Walker McCleney.
Blake Adams also had four hits, scored twice, and added an RBI, while Kyle MacDonald added three hits, two runs scored, and two RBI. Shortstop Grant Van Scoy finished with three hits, two runs scored, and one RBI.
The 57's improved to 11-5 and remain second in the Eastern Division, while Melville dropped to 4-13. The 57's head out on the road Saturday to visit the Moose Jaw Miller Express.