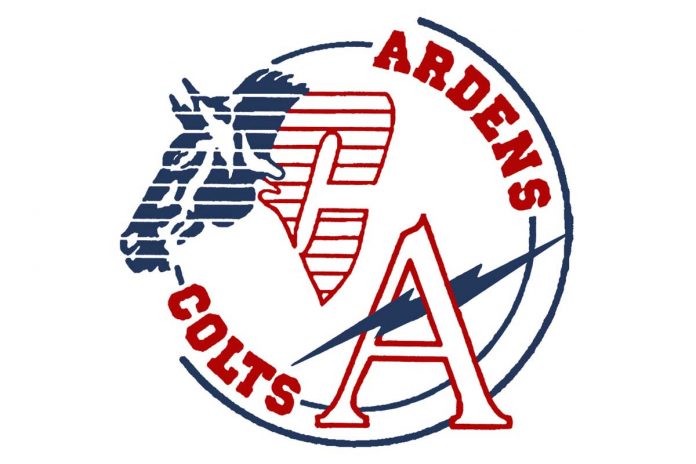 The Swift Current Comprehensive High School Athletics Department gathered its athletes, coaches, and parents to celebrate an incredibly successful year of sports for the Colts and Ardens at the first annual SCCHS Athletic Luncheon Tuesday.
The 2016-17 athletic year saw three SCCHS teams win provincial medals, led by the Senior Ardens volleyball team, who won 5A Provincial gold in Regina. The Senior Colts also won bronze at 5A Provincials in Regina, while the Ardens soccer team won a second straight bronze medal at 3A Provincials in Prince Albert. The SCCHS wrestling teams also won three medals, led by a gold from Austin Shopa. Aleah Nickel added silver and Brock Doerksen added bronze. The team was also recently awarded the Sportsmanship Banner for their performance at Regionals and Provincials.
Four athletes combined to win seven medals at the SHSAA Track and Field Provincial Championships in Saskatoon to close out the athletic year. Scott Joseph won gold in the Long Jump and silver in the 100 Metre Dash. Kalea Sauder also won silver in the 100 Metre Dash and claimed bronze in the Long Jump. Brielle Wall won bronze in both the Long Jump and High Jump. Braedon Friesen rounded out the medal winners with gold in High Jump.
Highlighting the awards was the presentation of the Outstanding Athlete and Leadership Awards.
Austin Shopa was named the Outstanding Male Athlete after a dominating career with the Colts football and wrestling teams.
Mackenzie Froehlich was named the Outstanding Female Athlete following a four-year career with Senior Ardens Volleyball, culminating in a 5A Provincial championship, three years with the track and field team, and one year on the Senior Ardens basketball team.
Reagan Martin capped his four-year career with the Colts in six different sports by receiving the Male Leadership Award. Allison Girardeau took home the Female Leadership Award for her efforts in volleyball and track and field.
This year marked a new tradition with presenting the TED awards to those athletes who exemplified the SCCHS Athletics core values of Teamwork, Effort, and Dedication on each respective team.
Team TED recipients were as follows:
X Country: Mason Smeby and Ilyssa Dyck
Football: Emmett Guider
Golf: Griffin Wilson
Colts Soccer: Zach McCallum
Ardens Soccer: Haley Bissonnette
Grade 9 Colts Volleyball: Jaedyn Carefoot
Grade 9 Ardens Volleyball: Kassidy Painchaud
Junior Colts Volleyball: Grady Rogers
Junior Ardens Volleyball: Brooklyn Choo-Foo
Senior Colts Volleyball: Henry Rempel
Senior Ardens Voleyball: Brittany Rousseaux
Grade 9 Colts Basketball: Jordan Lamontagne
Grade 9 Ardens Basketball: Angeline Pasqual
Junior Colts Basketball: Alex Wollbaum
Junior Ardens Basketball: Elise Hildebrandt
Senior Colts Basketball: Seun Akinfiresoye
Senior Ardens Basketball: Katie Braun
Curling: Theo Lautsch and Jenna Sloman
Wrestling: Sebastian Marchand and Aleah Nickel
Badminton: Ethan Warkentin and Monica Torales
Track & Field: Scott Joseph and Kalea Sauder
Archery: Brayden Olfert
Rugby: Abby Murray
The Athletic Department also handed out the Minor Athletic Award to students who accumulated 75 or more athletic points to the following students: Kyla Bolton, Alexander Booth, Katie Braun, Kelton Dyck, Jayden Hames, Brittney Lamontagne, Tristan Lockman, Zach McCallum, Cole Shatosky, Pearce Targerson-Jones, Ryan Vesey, Eric Wiebe, Wyatt Wiebe, Taylor Coulter, Logan Fritzke, Josh Keller, Jarrod Quinton, Andrew Steinley, Ali Vance, Jessica Warren, Parker Bloom, Theo Lautsch, Danika Messer, Aleah Nickel, Grady Rogers, and Amanda Thoreson.
Major Athletic Awards (150 or more points) were awarded to: Emmet Guider, Mackenzie Froehlich, Austin Shopa, Remington Tschetter, Kyle Tisdale, and Owen Muri.
The Honor Athletic Award, awarded to student athlete with over 225 points, was awarded for the first time in a decade. Martin compiled 245 points during his time with the Colts in volleyball, basketball, wrestling, badminton, football, and track and field.