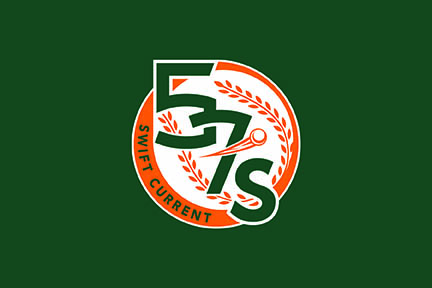 The Swift Current 57's stretched their winning streak to four games as they edged the host Melville Millionaires 3-2 in a pitchers' duel at Pirie Field Sunday.
The 57's scored three unanswered runs over the final two innings to erase a 2-0 deficit.
Melville took advantage of a pitcher's error in the seventh inning to score twice. Swift Current responded in the eighth inning when Blake Adams walked with the bases loaded to score Bodie Cooper and Kiel Krumwiede scored on an error by the Melville pitcher.
The 57's added the winning run in the top of the ninth on a solo home run from first baseman Ben Andrews.
Matt Michalski had another dominant outing for the 57's, allowing only four hits and two unearned runs while striking out six over seven innings. The Mansfield, TX product lowered his earned run average to 0.85 in three starts with only two earned runs over 21 innings.
Sean Chandler pitched two scoreless innings in relief to get the win.
Melville starter Mason Furlong was every bit as good as he allowed only three hits, one walk and one run over 7.1 innings as Melville dropped to 4-10 with a fourth straight loss.
The 57's now lead the WMBL with a 9-3 record.