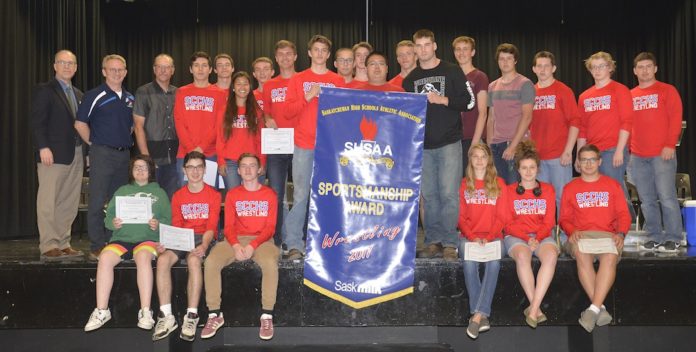 A wildly successful high school athletics school year in the Southwest culminated with one final honour Thursday when the Swift Current Comprehensive High School wrestling team won the Saskatchewan High Schools Athletic Association Sportsmanship Award.
SHSAA Executive Director Lyle McKellar was on hand to present the Sportsmanship banner to the Colts and Ardens wrestlers, who were coach by Allen Blanke, Daniel Marchand, and Tracey Martin.
The SCCHS wrestling team was the third team to hang a Sportsmanship Banner during the 2016-17 school year. The Shaunavon Shadows were recognized in the 4A Boys Volleyball category and the Vanguard Valkrys took home the honour in 1A Boys Volleyball.
"I think it is excellent," said Chinook School Division Director of Education Kyle McIntyre. "It is the SHSAA's highest award, sportsmanship. It really proves that our students and teachers really exemplify what high school sport is about. It is about creating good kids. It is about the court being an extension of the classroom. It is about being good citizens, being good teammates. It's really a tribute to the quality of kids and the quality of coaches that we have in the Southwest and in Chinook."
The SCCHS team was presented the banner just five days after the final day of SHSAA competition, which came in Saskatoon where South West Athletic Conference athletes brought home 13 medals from the Track and Field Provincial Championship to conclude a very successful year of high school athletics.
"Our teachers really give a lot of time, our coaches and our volunteers really put a lot of time in with the kids," noted McIntyre. "Any time you have a high school season where you're acknowledged with Sportsmanship Awards or that you have some provincial medalists or have teams that are extremely competitive it's really rewarding. I really enjoy high school sport. I think it is a great extension of the classroom and I think it is life experience, a memory that these kids are going to have forever. They are going to come back into the high school 20 years from now, see that blue banner in the gymnasium and they are going to say, 'I remember that team.'"
The Colts and Ardens took part in provincials in Warman on March 17-18 where they got a gold medal from Austin Shopa, silver from Aleah Nickel, and bronze from Brock Doerksen.
McKellar noted that the SHSAA has over 350 schools in their organization and that this award marked the sixth Sportsmanship Award for the Swift Current Comp. The SHSAA first began presenting the awards in 1996.
"For us to be back in Swift Current for a second, third, fourth, fifth, and now sixth time, a second time for wrestling, says a whole bunch about this group of ambassadors, but it says a lot about your school and your community as well," he said.
McKellar noted that in a sport where opponents engage in one-on-one physical combat, sportsmanship is very evident in the way they handle victory and defeat.
"How do they handle, one, victory and treating their opponents after that have had a victory, or two, how do they handle defeat and how do they interact with people they are around."
McKellar explained that the Colts and Ardens have been on their radar for a Sportsmanship Award for a while now for the way they conduct themselves at Regionals and Provincials each year.
"I don't think that there is a school out there that has a wrestling team that supports one another the way that this group does. As soon as they finish their match, win or lose, they are off to find the mat that their teammates are wrestling on so that they can provide that support," said McKellar.