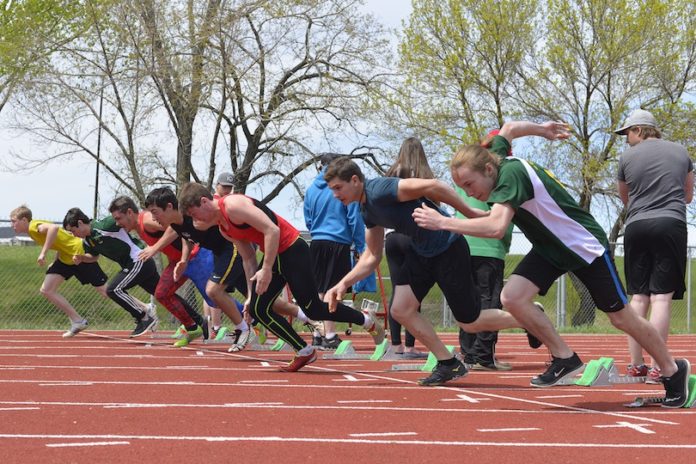 Maple Creek's Michael Mudingayi powered his way down the track to set three new records at Cypress Hills Sectional meet in Swift Current Thursday.
The 16-year-old sprinter established a new mark in the Junior Boys 100 Metre Dash in 11.63 seconds, beating out the previous mark of 11.93 seconds. He added a record of 24.32 seconds in the 200 Metres to lower the former mark of 24.90 seconds. Mudingayi added his third record in the 400 Metres in 56.99 seconds, smashing the former record of 59.85 seconds.
Leader's Jackson Sitter added two records in Midget Boys action. He set a new Long Jump record at 5.55 metres, well ahead of the previous mark of 5.36 metres. Sitter added a second record in the Triple Jump at 11.22 metres, eclipsing the previous standard of 10.97 metres.
Hazlet's TJ Sletten added a new record in the Junior Boys 3,000 Metres in 11:20.10, well over a minute faster than the former mark of 12:36.19.
Maple Creek's Makayla Scheller set a new record in the Senior Girls Shot Put. She reached 9.80 metres, to erase the former mark of 9.24 metres.
The final record was set by Maple Creek's Meghan Gowen. She traveled 9.02 metres in Bantam Girls Triple Jump to better the previous mark of 8.87 metres.
Tatym Scheller won the Midget Girls aggregate title with 40 points, while Sitter topped the Midget Boys standings with the maximum 40 points as well.
Maple Creek's Morgan Robinson and Hazlet's Braelynne Heck tied for first in Junior Girls with 28 points, while Fox Valley's Frank Chou and Maple Creek's Nick Scott tied in Junior Boys with 34 points apiece.
Maple Creek's Alex Mason and Scheller tied for the Senior Girls aggregate title with 38 points, while Hazlet's Gavin Garrett and Parker Campbell tied for the Senior Boys title with 28 points apiece.
Maple Creek's Sydney Murphy and Gowen tied for the Bantam Girls title with 30 points, while Maple Creek's Ben Drewitz topped the Bantam Boys division with 38 points.
The SHSAA track and field qualification process will continue on Wednesday with Districts in Swift Current.