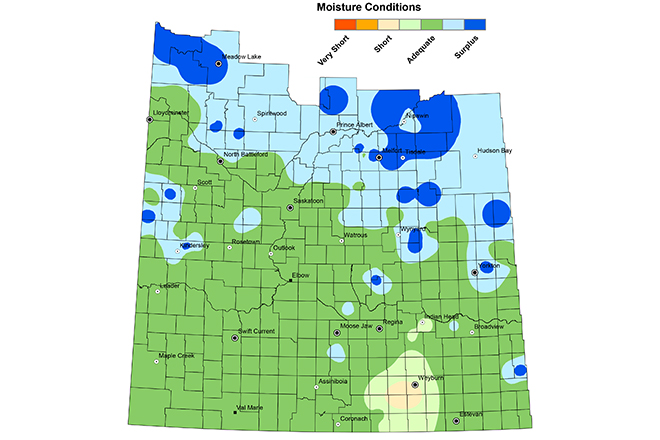 Producers in the Southwest made up for lost time by getting an additional 28 per cent of the crop into fields.
Southwest producers now have an estimated 46 per cent of the crop in the ground according to the Saskatchewan Agriculture Crop Report for the period of May 9 to 15. This marks significant progress from the 18 per cent recorded in the previous crop report.
While some fields remain wet and unable to support equipment, much of the region was able to make progress within the five-year seeding average of 53 per cent.
There were rainfall amounts of 10 millimetres or less through much of the region, which caused only slight seeding delays on otherwise optimal field conditions.
Crops are emerging quickly and pastures are starting to green up across the Southwest. After a wet start to the year, some areas could now use rain to help replenish topsoil moisture and help crops emerge.
Cropland topsoil moisture is rated as three per cent surplus and 97 per cent adequate. Hay land and pasture topsoil moisture is rated as one per cent surplus, 97 per cent adequate and two per cent short.
Province wide, 30 per cent of the crop is now in the ground, slightly trailing the five-year average of 33 per cent.
Seeding is most advance in the Southeast where 60 per cent of fields have been seeded. The remainder of the province has seeding completion totals ranging from 19 to four per cent.
Saskatchewan Seeding Progress
(Per cent seeded as of May 15)
Spring wheat 21%
Durum 37%
Barley 18%
Oats 10%
Canary Seed 20%
Flax 20%
Canola 21%
Mustard 42%
Soybeans 18%
Lentils 49%
Field Peas 50%
Chick Peas 52%