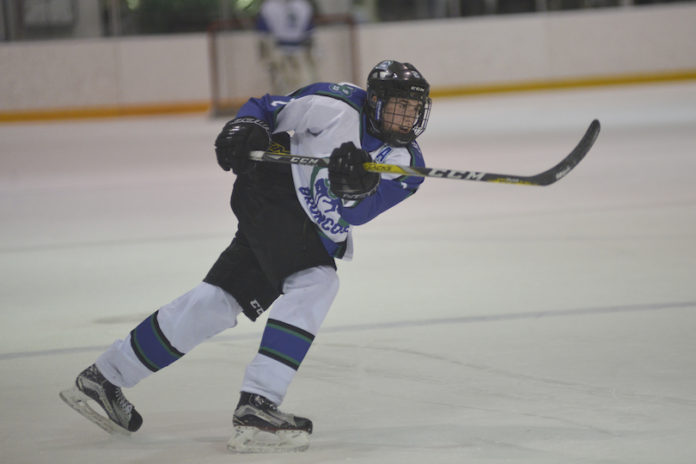 At least one Western Hockey League team was impressed with the Swift Current Kabos Bantam Broncos this season. The Spokane Chiefs selected three members of the provincial champions in Thursday's WHL Bantam Draft.
Swift Current's Mac Gross was the first Southwest player drafted in today's draft. The 6'1.5'' defenseman was taken 50th overall by the Spokane Chiefs in the third round.
"I was just kind of going in with an open mind, just hoping for the best honestly," he said.
"They are a good organization," said Gross of the Chiefs. "They work really well everyone. It is just a proud day."
Gross posted seven goals, 12 assists, and 28 penalty minutes in 19 games for the Swift Current Broncos in the Saskatchewan Bantam AA Hockey League regular season. He added eight points in 10 playoff games while helping the Broncos to their first league championship.
Gross broke his wrist in mid January and missed a significant portion of the season before returning to help lead the Broncos on a long playoff run.
"It was a good year. After I got back from that injury I really just elevated my game, just kept getting better as the games went on. The hard work paid off."
He was also named the Most Sportsmanlike Player at the Western Canada Bantam AAA Championship in Warman to conclude the season.
The next local player selected was Swift Current's Reed Jacobson, who was also chosen by the Chiefs in the sixth round, 115th overall.
"It's pretty cool," said Jacobson. "It's a pretty cool feeling. I was sitting in class and I looked at my phone and my name popped up and I was excited. I am excited to see what the future brings."
Jacobson finished fifth in the Saskatchewan Bantam AA Hockey League with 39 goals and 70 points in 29 regular season games. He added nine goals and five assists in nine playoff games while leading the Broncos to their first league championship. He also had a goal and an assist in four games at the Western Canadian AAA Championship in Warman.
"We had a good season," said Jacobson. "We had lots of success. Towards the end of the season we played as a team and just persevered through hardships, got to the provincial final and showed everyone what we were made of and made it to Westerns."
"We had a good team from camp. Everybody bought in to what Trent [head coach Trent McCleary] was telling us. We really worked hard throughout the whole season. The work paid off in the end by winning the league and going to Westerns," added Gross.
Jacobson also appeared in four regular season games with the Swift Current Home Hardware Legionnaires in the Saskatchewan Midget AAA Hockey League.
"I felt I had a pretty good season, led the guys and tried to do the best that I could leading by example on and off the ice."
Gross was excited to learn that his friend and teammate was also drafted by the Chiefs.
"It just makes it better to have a familiar face when you are at camp. We are good buddies so it is going to be fun."
Gross said that plenty of people helped him along the way to getting drafted into the WHL.
"My teammates helped a lot. I have had some good coaches in the past couple years, like Todd Hornung, Trent McCleary, Darren Evjen. My parents they have pushed me throughout my whole career and I just can't thank them enough."
Jacobson thanked his family for helping him and pushing him through obstacles to reach this level. He also noted the contributions of his friends and teammates in his hockey career.
The Chiefs added to their collection of Swift Current products in the seventh round when they took defenseman Hendrik de Klerk 138th overall. The skilled blueliner was third in team scoring with 30 points in as many regular season games. He added four points in 10 playoff games.
"I am just really thankful," said de Klerk moments after being drafted. "I am happy. They seem like they are a really good hockey club and I am excited to go there."
"I thought our season went really well," said de Klerk of the Broncos' provincial championship season. "I thought our team bonded together really well. Everyone worked hard and I thought that's what helped us create success."
"I thought it went really good," he said of his season. "I thought I progressed as the season went on and that kind of helped me coming towards the draft."
"Obviously my parents helped me a lot, taking lots of hours to come to the games and making lots of road trips. My coaches throughout the years have really helped me. Probably my teammates too, gotta include them in there, they helped me lots," he added.