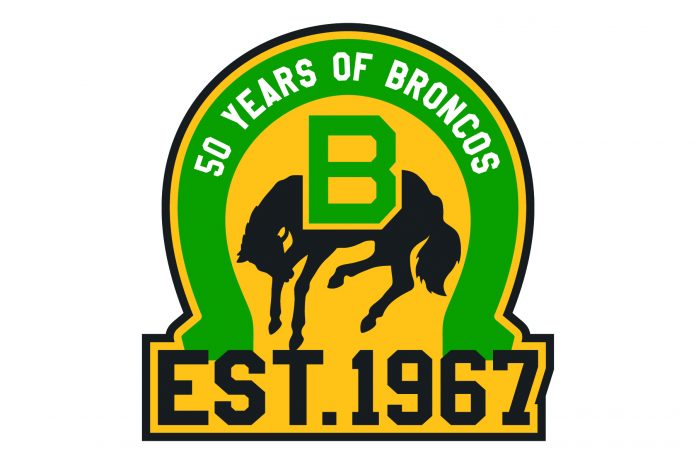 The Swift Current Broncos used the first of their two first round pick in the WHL Bantam Draft to select Edmonton Joel Sexsmith ninth overall.
"It's pretty surreal," said Sexsmith shortly after being drafted. "I think it's something I have dreamed about for a long time, playing in the WHL. I am really looking forward to contributing to Swift Current's success in the future."
"Joel is a smooth skating defenseman," said Broncos Director of Hockey Operations Jamie Porter. "He is extremely intelligent, sees the ice real well. We have been looking for a defenseman and Joel is the perfect fit for us."
Sexsmith had four goals and 12 assists in 30 games this past season with Rink Hockey Academy Bantam Prep. He is listed at 6'1'' and weighs 162 pounds.
"If I have to be completely honest with you, never in a million years would I have thought I would have went where I did," he said of being selected ninth overall. "I am very honoured and very blessed to have gone where I did. I am honestly just pretty overwhelmed with everything right now. It is a pretty unbelievable experience and this day only happens once."
Sexsmith was recognized for a having a strong Alberta Cup performance recently.
"We track body of work. He did play well at the end of the year, played aggressive, was in control. I mean it's what we've seen all year," said Porter.
Sexsmith becomes the final piece of last season's trade that sent Jake DeBrusk to the Red Deer Rebels in exchange for Lane Pederson, a third round pick last year, and the Rebels' first round pick this year.
The Broncos also hold the 13th overall pick after finishing 10th in the WHL regular season with a 39-23-4-6 record.
They used that pick to select Vernon, BC forward Ben King. King had 16 goals and 30 assists with Pursuit of Excellence Bantam Prep.
"I am really excited for it," said King after being drafted by the Broncos. "It should be a good place and I am just super pumped."
"Ben is a good sized forward who is going to play both ways," said Porter of the 5'11.5", 161-pound King. "He has got some skill. He has actually played some defense too. We like his leadership qualities. We really like his character. He fits into the type of player a Bronco is."
"We were targeting a D and a forward in one way or the other. It kind of worked out perfect for us. We're quite happy," said Porter of the Broncos' first-round haul.
Sexsmith said he and Smith played together during a tournament in Europe years ago.
"Definitely a great guy, a good leader, strong, good with the puck, and ultra intelligent," said Sexsmith of King. "I am really looking forward to cooperating with him from the back end."
"Yeah from playing against him this year too, he is a great defensive D man and he can produce offense too. He is just a great D man," said Smith while in Philadelphia at a tournament.
Smith also played with Broncos' 2016 draft picks Connor Horning (3rd round) and Nolan Corrado (4th round) so has some knowledge of the Broncos and Swift Current.
"I heard they get quite a few fans for a little town or a little city. I heard it is a great place to play and great coaching and good players."
The Prince Albert Raiders opened the draft by selecting Sherwood Park defenseman Kaiden Guhle with the first overall pick. The Kootenay Ice followed by selecting Wainright, AB forward Connor McClennon second overall. The Vancouver Giants added Surrey centre Justin Sourdiff third overall. The Edmonton Oil Kings added Airdrie's Jake Neighbours fourth overall. The Saskatoon Blades rounded out the top five by grabbing Langley defenseman Aidan De La Gorgendiere.
The Medicine Hat Tigers took the first goaltender when they selected Grand Prairie's Garin Bjorklund 21st overall.
Humboldt's Kaden Kohle was the first Saskatchewan player selected when he was drafted 12th overall by the Tri-City Americans.
The first round consisted of 15 forwards, six defenseman, and one goaltender. Alberta led the way with 11 players, followed by six skaters from British Columbia, three from Saskatchewan and two from Manitoba.
The Broncos added goaltender Ethan Hein in the third round, 57th overall. Hein is a 6'2'' product of Saskatoon. He posted a 2.37 goals against average and a 14-2-0 record with the Saskatoon Maniacs.
The Broncos used their first pick of the sixth round, 117th overall, to select St. Albert centre Alex Thacker. The 5'7.5'' forward had 57 points in 36 games with the Fort Saskatchewan Rangers.
They followed up by selecting defenseman Bryce Margetson with the 123rd pick, also in the sixth round. The 6'0.5'' Surrey, BC native skated for the Delta Hockey Academy Wild Bantam Prep team last season.
The Broncos grabbed Yorkton forward Massen Ziola in the seventh round, 145th overall. The 5'7.5'' left winger registered 24 goals and 31 assists in 27 games for the Terriers this past season.
They went back to the Fort Saskatchewan Rangers with a second pick in the seventh round when they selected defenseman Daron Cyr 154th overall from St. Albert.
They traded away their ninth round pick before selecting Cranbrook left wing Marlow Wyatt, who played for Okanagan Hockey Academy Prep last season, with the 211th overall pick in the 10th round.
The Broncos finished the day with one goaltender, three defenseman, and four forwards.
Round 1, 9th overall – D Joel Sexsmith
Round 1, 13th overall – F Ben King
Round 3, 57th overall – G Ethan Hein
Round 6, 117th overall – F Alex Thacker
Round 6, 123rd overall – D Bryce Margetson
Round 7, 145th overall – F Massen Ziola
Round 7, 154th overall – D Daron Cyr
Round 10 – 211th overall – F Marlow Wyatt.