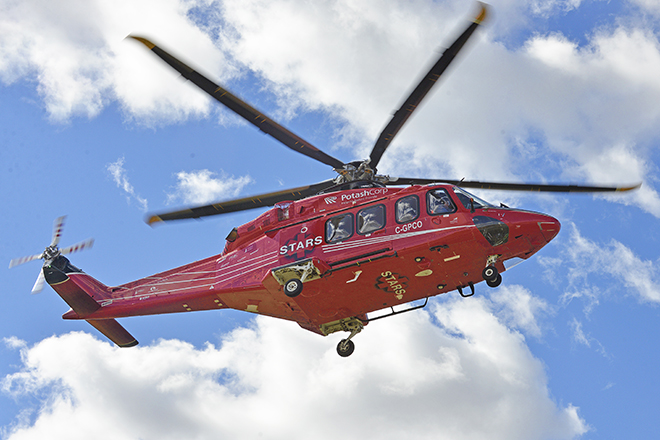 April 30 will mark the five year anniversary of the launch of STARS (Shock Trauma Air Rescue Service) in Saskatchewan skies.
STARS has quickly become a vital link in Saskatchewan's emergency medical services network, working in conjunction with ground ambulances and fixed wing aircraft in getting critically injured and ill patients quickly to emergency rooms in Regina and Saskatoon.
Since beginning operations in the province in 2012, STARS has flown over 4,000 missions.
"Its been quite a ride," admitted STARS President and CEO Andrea Robertson. "When you sit back and you think five years in, we've flown over 4,200 missions."
"That's a lot of people, a lot of communities, and a lot of families. When we fly it's typically a very, very bad event in your life."
STARS helicopters are outfitted as mobile Intensive Care Units, and they cut vital travel time for sick and critically-injured patients from rural communities and remote areas. Each flight is staffed by two pilots, a flight nurse and a paramedic. STARS is essentially a travelling emergency room, so they respond to accident scenes as well as providing inter-hospital transfers to help reduce travel time for rural patients facing life threatening crisis.
"If you need that really special resource, then we're there. It's an addition to the health system, and obviously 4,200 have needed one," Robertson pointed out.
STARS is no stranger to the Southwest, as Swift Current rates as the Saskatchewan community which had the most STARS visits during 2015-2016 with 47 trips.
In 2015-2016, STARS across Western Canada flew a total of 3,423 missions, and since 1985 STARS has carried out 33,000 missions across the prairies. Outside of Saskatchewan, STARS also operates out of three Alberta locations (Calgary, Edmonton, Grande Prairie), plus they cover Manitoba from a base in Winnipeg.
In fact, the STARS organization has access to 100 critical care physicians, and as a group they are always looking at how they can improve their service and improve the care for the next patient. One major improvement over the years has been their ability to carry stocks of blood onboard instead of making helicopters stop at hospitals along the way to pick up necessary blood.
"The whole idea of Blood On Board started in Regina," she points out. "It had been tried to be implemented elsewhere in the organization for years and years, and it got solved in Regina. Now we carry blood on the aircraft at all of our bases in Manitoba, Saskatchewan and Alberta."
"That's the benefit. You figure something out that's really going to change and save lives, and then you can spread that across all of Western Canada. It's pretty awesome."
STARS is currently in the early day of their Saskatchewan STARS Lottery 2017. A total of 2,016 prizes worth more than $4 million retail is up for grabs. The list of prizes includes two grand prizes, 11 vacations, seven vehicles, plus many more. There is also a Lucky Stars 50/50 which offers a prize of up to $800,000.
The charitable, non-profit organization relies on support from both the corporate sector and community fundraising efforts. The Saskatchewan
government provides 50 per cent of their operational funding, with STARS tasked to raise the other half of their funding needs.
"The lottery is almost one-third of that funding every year. So it's a very important fundraiser for us," Robertson noted.
She admitted that Saskatchewan residents have shown their extensive generosity by buying STARS lottery tickets, STARS calendars, holding fundraisers, bake sales, and even young children are donating their birthday money to STARS.
"Every single penny helps because the money goes directly to keeping the aircraft and our crew in the air."
Additional information about the Stars Lottery 2017 can be found at http://starslotterysaskatchewan.ca.