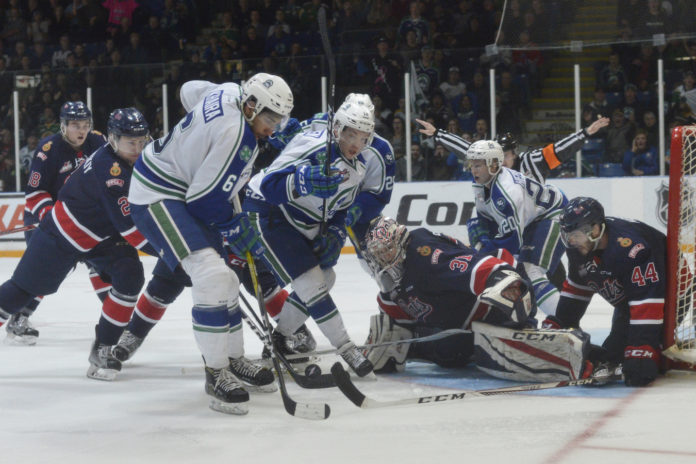 Captain Glenn Gawdin scored the triple overtime winner after almost 110 minutes of play to lift the Broncos to a 5-4 win over the visiting Regina Pats.
"First off a little bit of relief there. I didn't know how long this game was going. A mix of emotions, excitement, relief, you name it. It was pretty unbelievable," said Gawdin of his game winner, which came on the power play after Connor Hobbs had been whistled for playing with a broken stick.
"Yeah it is up there for sure. I think just for this game and how it went, yeah it is the biggest goal I have scored in the WHL for sure," he added of his goal that appeared to batted out of midair in the crease.
The Broncos third overtime win of the series put the Broncos ahead of the WHL regular season champions 3-1 in the best-of-seven Eastern Conference semi-final series.
The two teams combined for 138 shots as Jordan Papirny made 65 saves for his seventh win of the post-season. Tyler Brown made 64 saves in a losing cause.
"Certainly we are pleased, there's no question about it," said Broncos head coach Manny Viveiros. "It was a hard fought battle. It was a great hockey game, a great game for the fans. Outside of that very first period I thought we played a really good game, a really good game. We had some really good chances. I thought their goaltender played very well tonight, so did Jordan, he played very well for us. Three overtime games could go either way. We are certainly happy to be up right now."
Gawdin said the team was feeling pretty good after taking a commanding lead in the series.
"That's a good team over there and we know that. I think we are just confident in our team and what we can do and just try to prove guys right now."
Gawdin's goal helped the Broncos overcome an incredible four-goal effort from Dawson Leedahl, who has now scored Regina's past five goals. Leedahl staked the Pats to a 2-0 lead in the first period with a power play goal at the 9:10 mark and an even-strength goal 5:50 later.
The Broncos responded in the second period with 19 shots on goal and two goals to tie the game. Ryley Lindgren started the comeback with 4:30 left in the period when he one-timed a Tyler Steenbergen cross-ice feed into an empty net for his seventh goal of the post-season. Artyom Minulin tied the game up with 17.7 seconds left when he collected an errant shot off the end boards and fired it into a partially empty net.
Leedahl completed the hat trick when he knocked home a rebound 4:12 into the third period. Tyler Steenbergen quickly tied the game 2:07 left when he snuck a bad angle backhand attempt between Tyler Brown and the post.
The Broncos too their first lead of the game with 2:25 remaining in regulation when Lindgren fired a low shot past the blocker side of Brown for his second goal of the game.
Leedahl tied the game with only 20.3 seconds left when he tipped home a pass with the goaltender pulled for the extra attacker to force overtime for a second straight game and the third time in four games in series.
Both teams had their share of chances in the first overtime period when the Broncos outshot the Pats 19-13. Riley Stotts and Lane Pederson both had golden scoring opportunities, while Chase Harrison fired a point shot off the post for the Pats.
Sahvan Khaira fired a puck off the post 7:10 into the second overtime period as the game wore on and both teams had their share of scoring chances.
Game five will be Friday in Regina. "We know they are going to push back. But for us we are just trying to close the series out and soon as possible. We just have to win one more game and that is our mindset," said Gawdin.