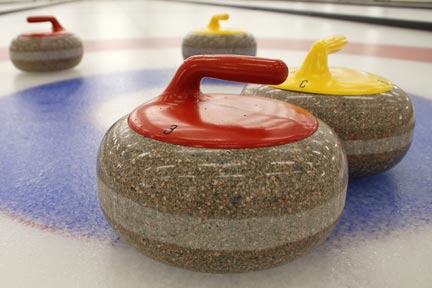 A Fox Valley rink took on some of the biggest names in the country and reached the quarter-finals at the 2017 Mixed Doubles Curling Championships in Saskatoon.
The duo of Ryan Deis and Sherry Just finished on top of their eight-team pool with a 6-1 record to advance straight into the quarter-finals. Kay Montgomery is the coach of the Fox Valley Curling Club rink.
They won their opening game on Wednesday over former Canadian champion Chelsea Carey and Colin Hodgson.
Deis and Just followed up with an 8-5 win Thursday over Saskatoon Nutana's Nancy Martin and Catlin Schneider. The Fox Valley rink improved to 3-0 with an 11-4 win over Vernon, BC's Jaelyn Cotter and Jim Cotter.
They added a 9-5 win over Sarah and Ryan Lamswood on Friday morning but lost their first game 8-4 win to Lisa Weagle and John Epping. They quickly rebounded with an 8-2 win over Mackenzie Schwartz and Sam Wills.
The Fox Valley rink closed out the round robin Saturday with a 7-6 win over Listowel's Katie and Shawn Cottrill.
Just and Deis had a rematch with Carey and Hodgson in the playoffs and lost 6-4 to fall two wins short of a spot at the Olympic trials.
The Mixed Doubles Nationals has been quickly emerging in profile in Canada as the sport will debut as a medal sport at the next Winter Olympics in China in 2018.
Among the decorated participants at this year's tournament in Saskatoon are newly crowed womens world champion Rachel Homan, who has teamed up with three-time Brier champion John Morris. Other notable names are Jill Officer, Pat Simmons, Kaitlyn Lawes, Catlin Schneider, Carey, Jennifer Jones, Dawn McEwen, Mike McEwen, Reid Carruthers, and Marliese Kasner.
The top three teams at this tournament will earn a spot at next year's Canadian Olympic Mixed Double Curling Trials and the winning team will represent Canada at the world championships in Lethbridge later this month.