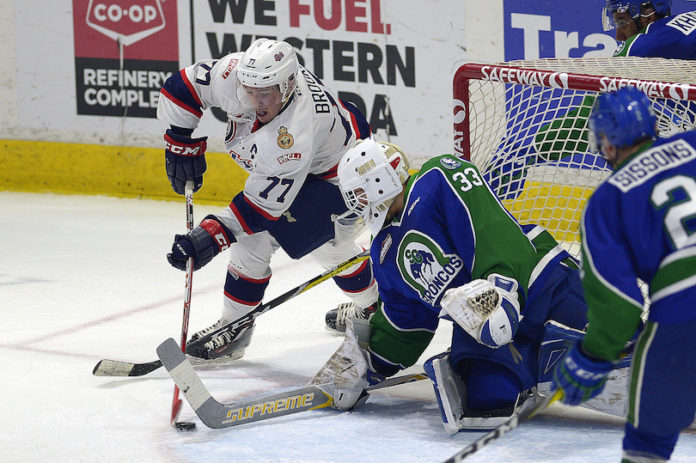 Ryley Lindgren scored in overtime to lift the Swift Current Broncos to a 2-1 upset win over the host Regina Pats to open the Eastern Conference best-of-seven semi-final series.
Lindgren notched his sixth goal in eight post-season games 15:12 into overtime and Jordan Papirny made 53 saves on 54 shots for the game one victory over the top seeded Pats.
After scoring first in six of seven games during the opening round, the Broncos were outshot 20-2 in the opening period and fell behind when Austin Wagner notched his fourth goal of the post-season with 2:24 to go in the period.
The Broncos trailed into the final minute of regulation when Lane Pederson tied the game with 39 seconds remaining to send the Broncos to overtime for the first time in the post-season.
Tyler Brown took the loss with 34 saves on 36 shots. The Broncos finished zero-for-six on the power play, while they killed of their only shorthanded situation.
Papirny improved to 5-3 this post-season and leads all Western Hockey League goaltenders with a .953 save percentage. Lindgren is now tied with teammate Tyler Steenbergen and Red Deer's Lane Zablocki for second in playoff goal scoring. Red Deer's Brandon Hagel leads the league with seven goals in as many games.
The Broncos improved to 4-1 on the road in the post-season after posting an 18-13-1-4 road record in the regular season. Game two will be Friday in Regina.