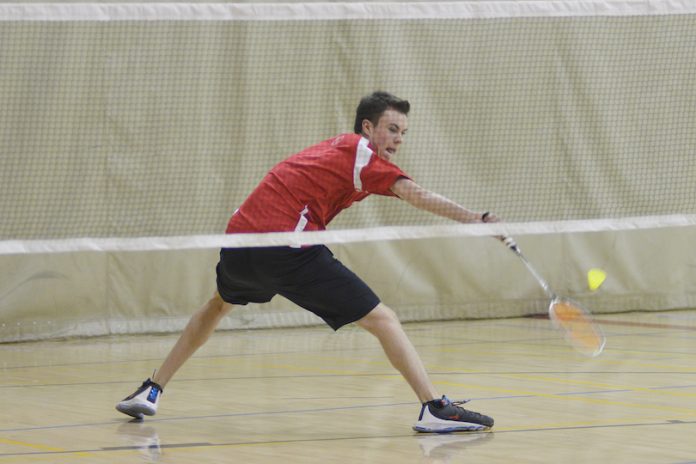 Five different teams took home gold medals from the Swift Current Comp. High School Senior Badminton Tournament on Saturday. A total of 12 teams were in attendance for the event hosted by the Colts and Ardens.
The host team had their best showing in boys singles where grade 12's Ethan Warkentin and Sim Singh swept the medals. Warkentin and Singh both finished 6-0 in the round robin, before Warkentin won in three sets (18-21, 21-14, 21-17) in the final to win gold.
Frontier's Amanda won girls singles with six straight wins. She finished 3-0 in the round robin, knocked off Swift Current's Kaia Hessie in the quarter-final, Leader's Chloe Mertin in the semi-final, and then defeated Rosetown's Meagan Wenzel (21-11, 21-18) in the final.
Fox Valley's Aden Hudec and Patrick Enhisz won gold in boys doubles. They finished the round robin with a 6-0 record before defeating Leader's Carson Leach and Jordan Mastel in the final (21-18, 16-21, 21-13).
Leader's Megan Tumbach and Kerstyn Wenzel rose to the top of the girls doubles field. They finished 4-0 in the round robin and then defeated Maple Creek 21-17 and 21-9 in the championship match.
Gravelbourg's Chloe Pouteaux and Rylan Kleckner came out on top of the mixed doubles competition with seven straight wins. They were 5-0 in the round robin before downing Rosetown's Kennedy Martens and Mark Hill in the semi-final. They defeated Fox Valley's Rebecca Chou and Nicholas Enhisz in three sets in the final (15-21, 21-11, 21-7).
Badminton will be back on the court at the Comp. on Saturday with the Senior Rolling Hills Sectionals.