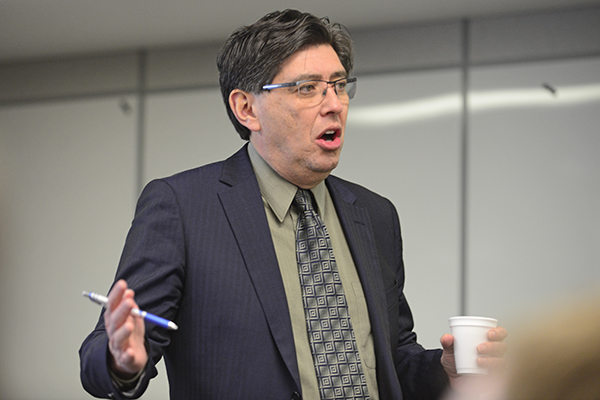 After 11 years at the helm of the Chinook School Division, Liam Choo-Foo has accepted a one-year position to serve as the Chief Project Officer for Saskatchewan's Ministry of Education.
Choo-Foo is taking a one year leave of absence as Director of Education for Chinook after being seconded to assume the position as Chief Project Officer for Provincial Initiatives.
Choo Foo said this opportunity developed very quickly, but he is excited for this chance.
"For me I've always found new opportunity and new challenge something that is intriguing. And I guess I've got a chance now to have one last kick at doing something that will broadly impact the entire province," Choo-Foo said during a press conference this morning. "I'm flattered that I'm viewed as a person who could go in and have that kind of an impact."
His duties will focus on the Education Sector Strategic Plan learning initiatives that are already starting to meet provincial success. Choo-Foo previously led the Saskatchewan Reads portion of the sector plan, so this new position will broaden his mandate. During the three years following the unveiling of the Saskatchewan Reads strategy, the number of Saskatchewan students reading at grade level in Grade 3 has increased by nine per cent. The Ministry of Education is looking at doing other projects, so Choo-Foo will now be the lead on all of those new initiatives.
"That's the intent right now is that I'll be going in and heading up a small little team of people that will be in charge of ensuring that all of those projects get completed, but they're completed in a very high quality fashion."
Choo-Foo intends to return to Chinook in April 2018, but that return depends on the direction chosen by the Board for a succession plan and in what role he would return in.
"The other wild card out there is that often these one year secondments don't end in one year. At this point in time, my goal is to make sure that when I do retire it is as an employee of Chinook," he said.
"Chinook is part of who I am," Choo-Foo said. He was the first official employee of Chinook dating back to the school board amalgamation which occurred 11 years ago.
"It's really hard," Choo Foo paused to collect his thoughts before concluding "professionally it's probably the toughest thing I'll ever have to do."
Chinook Board of Education board chair Larry Caswell said Choo-Foo will be missed because of his long tenure at the helm of the School Division.
"It's a quantum change for us just because its been the norm for a long time to have Liam as our head and representing us. We're certainly going to miss him, but we were fortunate to have him for the time we did," Caswell said.
"We're sorry to see him go in that we know we're losing a very effective and very good individual. On the other hand, his effectiveness now will be spread province wide."
Chinook's board now intends to finalize details of a succession plan and make an announcement next week on their plans.