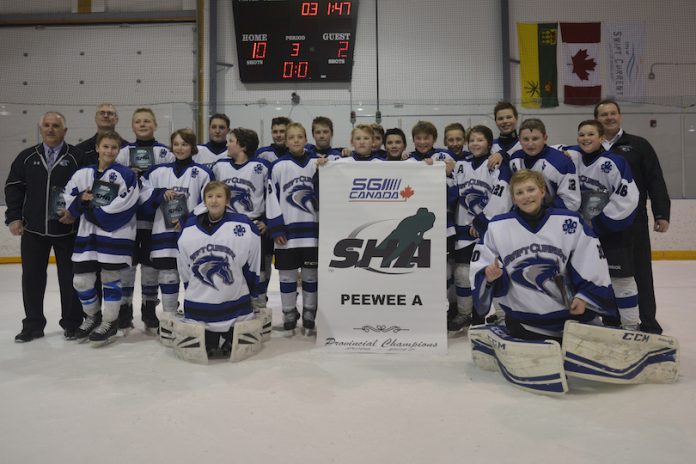 The Swift Current Peewee A Broncos wrapped up the provincial playoffs the way they began with a blowout win Sunday. The Broncos defeated Martensville 10-2 at home to conclude an eight-game run through the Peewee A playoffs in which they outscored their opponents 58-8.
The Broncos had won game one 4-2 on the road, but left little to chance in game two as they hit double digits on the scoreboard, including four goals and three assists from Rhett Dekowny and three goals and three assists from Carson Sabine.
Ben Patenaude added a goal and two assists, while Riley Bowers and Garrett Kurtz also found the back of the net. Kai Haubrich chipped in two assists, while McKale Paul, Ryder Knutson, Marshal Clothier, and Jaxon Shotter added single helpers.
The Peewee A Broncos were coached by Lane Francis, Kevin Patenaude, and Rod Piche.
"It feels so great," said Francis after the win. "There were five of these kids that were on this team last year and they didn't do it, but we did it. I am so glad for them and I am glad for the whole team. We had 19 kids on this team and they all played right from top to bottom, which is almost unheard of. That just goes to show the strength of these Peewees, the Peewee program, and whole division this year. We dominated every single series, it is almost unbelievable how much we dominated. I just appreciate these kids and the hard work that they put in, all the coaches, Kevin and Rod and Brent, our manager, just did so much work for this team."
Francis said he has been coaching hockey here for about nine years.
"I have been waiting a long time to hang a banner up there. This feels great. It feels great for me and for the boys," he added.
Francis said provincial title was months in the making with tryouts, practices, and tournaments to build toward this moment.
On the other sheet of ice at the Fairview Arena the Swift Current Peewee AA Broncos won their second straight provincial championship less than two hours after his team had collected their banner.
"It is amazing how strong these guys are. It starts with the Peewee AAs and the strength of that program. I always call these guys the best of the rest and they are the best. It all trickles down from that and these guys are right up there in the province."
The Broncos won all eight games in the provincial playoffs, averaging over seven goals per game and never allowing more than two goals.
Francis said that his team was a nice combination of talent and hard work.
"It was just the normal hockey skills, skating, aggression. I like very aggressive play and these guys brought that, a great backcheck, great discipline coming back obviously, awesome goaltending, you can't do it without great goaltending… Our D were strong, our forwards forced pucks in their end, just very aggressive play and every kid bought into that."