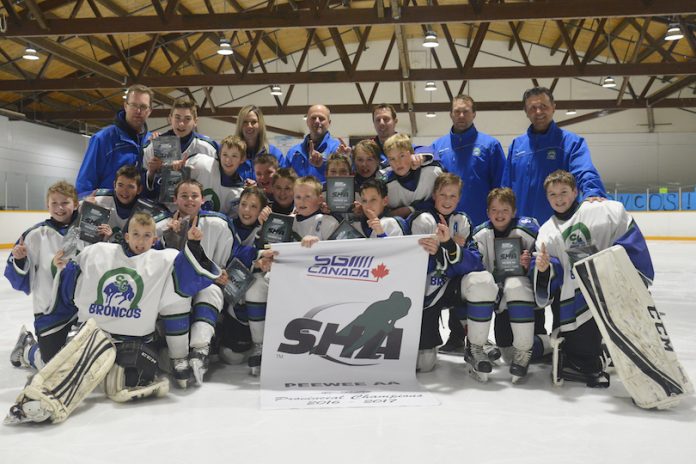 Brady Wilson's playoff scoring outburst concluded with a storybook ending when he scored 2:53 into the second overtime to clinch a second straight provincial title for the Swift Current Southwest Terminal Peewee AA Broncos.
The Broncos had squandered a 6-2 third-period lead, but Wilson came through once again with the series-ending goal to lift the Broncos to a 7-6 win over the visiting Warman Wildcats Sunday.
"Lindy [Kalan Lind] had it in the corner and he passed it out front. I one-timed it and it went off the goalie's shoulder and over and in," he explained as the celebration continued on the ice.
"I was really excited," added Wilson. "I think I had a good provincials, so I was excited to top it off with a big moment."
Wilson and Lind each finished with a goal and two assists and captain Jaydon Jessiman scored twice as six different skaters scored for the Broncos. Dayne Feicht, Rylan Silzer, and Keynan Cairns also scored. Rylan Williams, Nolan Stevenson, Rohan Priebe, Anthony Wilson, and Orin Olson all registered assists. Rylan Hildebrand earned the win in goal against a prolific Warman attack.
Brady Wilson was fourth on his team in scoring during the regular season but ramped up his production when it mattered most, finishing with seven goals and five assists over his final three games.
"I think I played pretty good, but the most important thing is that the team won," he said.
Sunday's win completed a dream season for the Broncos. They had clinched a South Saskatchewan Hockey League championship 13 days earlier to finish with a 28-2-0 league record with 228 goals for and only 57 goals against prior to an undefeated four-game run through the provincial playoffs.
"We were really close off-ice. I think we had a real tight group of kids, a real nice group of kids. We were just able to fit it together and win," said Wilson, a first-year member of the team who will move up to Bantam next season.