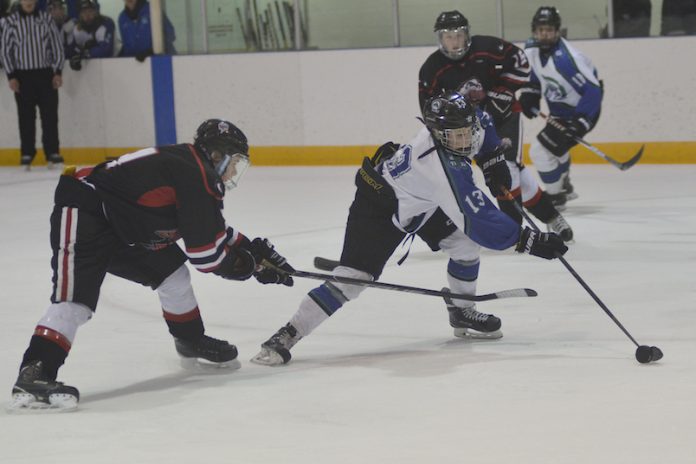 A pair of goals from captain Reed Jacobson helped send the Swift Current Kabos Raiders to the Saskatchewan Bantam AA Hockey League championship series.
Jacobson scored twice in the second period to put the Broncos ahead 3-1 on their way to a 4-2 win over the visiting Prairie Storm in the third and deciding game of the South Division final.
Mac Gross had scored to open the scoring and Cash Arntsen scored into an empty net to seal the win. Levi Lamotte, Keagon Little, Riley Dekowny, and Rhys O'Neill all added assists and Jacob Herman earned the win in goal.
"I thought the guys played very well," said coach Trent McCleary. "We have a game plan and we stuck to it. We got some production out of some guys and we locked everything down in the third period pretty much to get the win."
The Broncos had finished second in the South Division regular season with a 19-4-4-3 record. They swept the Estevan Bruins in two games to open the playoffs and then disposed of the Regina Monarchs in three games before coming up against the Prairie Storm, who had upset the top ranked Yorkton Terriers.
"It's what we come to training camp for. We have a goal and we are two wins from that goal. We still have a lot of work to do. The guys played good," added McCleary.
Game three of the North Division final is being played Sunday evening between the Saskatoon Maniacs and the Sask Valley Vipers.
"We will see who we play, but it will be a challenge that's for sure," said McCleary.
The Sask Valley Vipers defeated the Maniacs Sunday night 4-3 to clinch the series. The win also guaranteed the Swift Current Kabos Broncos a spot at Western Canadians on March 30 – April 2 in Martensville and Warman as the Vipers are the host team.