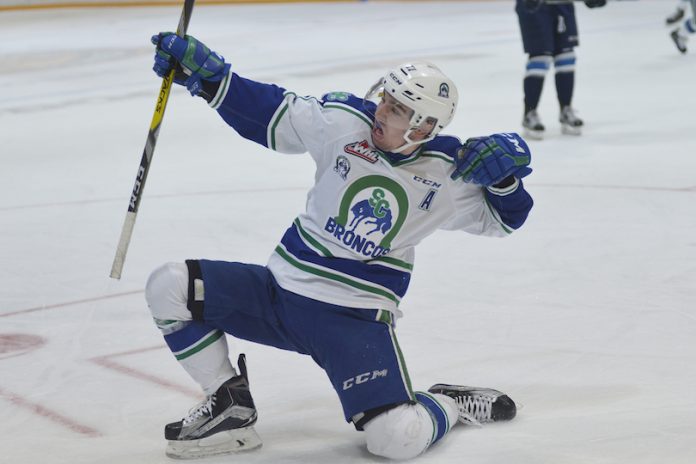 Tyler Steenbergen keeps on scoring and the Swift Current Broncos keep finding ways to win. Steenbergen scored in the first period Saturday to become the first player in the Western Hockey League to reach the 50-goal plateau this season. That goal helped the Broncos to a 3-2 win over the visiting Saskatoon Blades, their seventh win in the past eight games.
Steenbergen leads the WHL with 12 game-winning goals, but it was Ryley Lindgren who notched the game-winner with 58 seconds left on the clock to break a 2-2 deadlock that had lasted over two periods.
Lindgren had scored in the first period before Mason McCarty and Logan Christensen scored quick goals to give the Blades a brief 2-1 lead.
Taz Burman was outstanding in goal with 35 saves for the win. Logan Flodell took the loss with 27 saves.
"It was great," said Steenbergen after defeating the Blades for the second time in as many nights. "We knew coming in they were fighting for their playoffs lives. We kind of wanted to play spoiler and keeping them from getting that extra point was pretty huge for us. Getting just the win in general was pretty good for us going into the playoffs."
"We were tired tonight," said coach Manny Viveiros after watching his team play their sixth game in eight nights. "We showed we were tired tonight, mentally we were very tired. You hate to say it, but in the back of our minds the kids kind of knew we had clinched third place last night. I wasn't surprised the way the game went and the mistakes we made. I am still very happy we were resilient and we stayed with it and found a way to win a hockey game."
Steenbergen now has four goals in his past four games to reach 50 goals, a feat no Bronco had achieved since Jeremy Williams during the 2003-04 season.
"It was nice to kind of get the weight off my back," said Steenbergen. "But again I can't score all those goals without my teammates. They've been my biggest supporters throughout this whole year. I have to give them all the credit for it. It's great, but at the same time we want to make noise in the playoffs."
The Broncos already had a playoff spot clinched but they moved with six points of the Moose Jaw Warriors for second in the East Division with a 37-21-4-6 record. Both teams have four games remaining, including a home-and-away set against one another to conclude the regular season before they square off in the opening round of the playoffs.