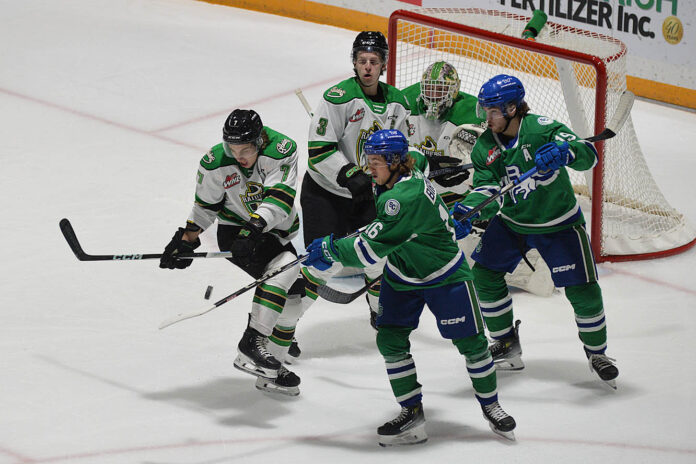 The Swift Current Broncos overcame a pair of deficits to defeat the visiting Prince Albert Raiders 3-2 on Wednesday. Reid Dyck made 32 saves and Mathew Ward had two points, including the game-winning goal in the third period.
The two teams combined for four goals for a 2-2 score after one period. Ryder Ritchie opened the scoring 3:27 into regulation with his eighth goal for the Raiders. The Broncos tied the contest minutes later when Connor Gabriel knocked home a puck that was wobbling on the goal line. Brayden Dube restored the lead for the Raiders when he got behind the Broncos and deked to the five-hole. Clarke Caswell tied the game minutes later with a one-timer, his fourth goal of the season.
After a scoreless middle stanza, the Broncos took their first lead early in the third period when Mathew Ward connected for a power play goal, his seventh goal of the season.
Dyck made 32 saves to improve to 4-2-0-0. Chase Coward made 21 saves for the Raiders against his hometown team to fall to 3–4-0-1.
The Broncos improved to 6-6-1-0, while Prince Albert fell to 7–5-0-1. The Broncos will host the Seattle Thunderbirds on Friday.