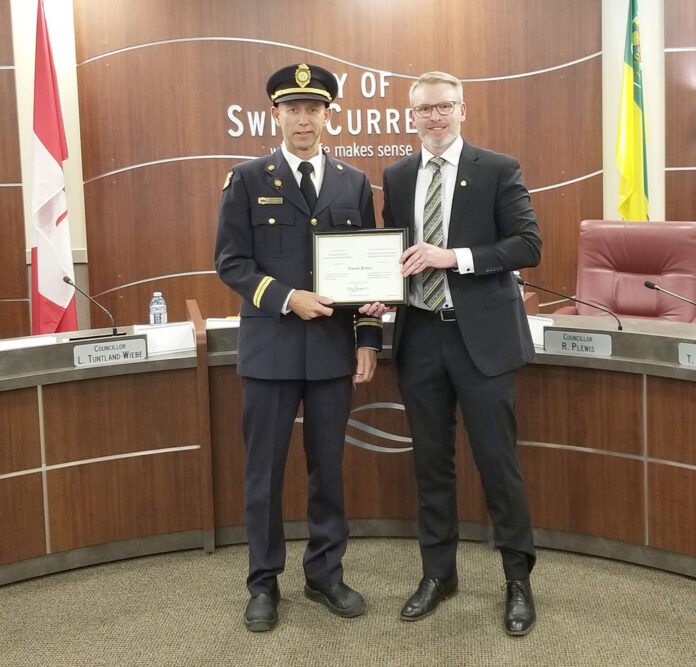 By Matthew Liebenberg
A long-time member of the Swift Current Fire Department has been recognized for his service to the community.
Captain Trevor Braun is a recipient of the Governor General of Canada Exemplary Service Medal for 30 years of service with the local fire department.
The medal presentation was done by Swift Current MLA Everett Hindley during a regular City council meeting, Sept. 18.
Braun served for two-and-a-half years as an auxiliary firefighter with the Swift Current Fire Department before becoming a full-time career firefighter on Dec. 1, 1992.
"Little did he know at the time that he would become not only a pillar of our department, but also a cherished member of our community," Hindley said. "Trevor's journey is not just about his service as a firefighter. It's a story of a life well lived, filled with personal milestones and achievements."
Braun founded the Swift Current Firefighters Charity in 2000, which will be an enduring legacy of his career.
"This charitable endeavour has had a profound impact in our community, raising approximately $6,000 each year to support local charities and families in need," Hindley said. "Trevor's leadership and compassion have made a tangible difference in the lives of many in Swift Current and area."
Hindley also referred to Braun's achievements and successes in other aspects of his life. He married Erin in June 1993 and they raised two children who have become successful adults.
Braun began a new endeavour in 2012 when he sold the family farm and acquired rental properties, which allowed him to apply his financial and entrepreneurial skills.
He is passionate about physical fitness and participated in various marathons and half marathons over the years. He also competed in two triathlons with fellow firefighter and business partner Regan Darby. One triathlon took place in 2008 during the Police-Fire Games in Saskatoon and the other in 2016 at Elkwater.
"In Trevor Braun we find a true hero, not just in the uniform he wears, but in the way he lives his life," Hindley said. "His 30 years of service as a firefighter are a testament to his unwavering dedication to the safety and well-being of our community and beyond that his personal achievements, his family values and his commitment to charity exemplify the qualities we hold dear in our firefighting family."
Council members expressed their appreciation towards Braun for his service and contributions. He mentioned that he will be retiring towards the end of the year, but only after his 31st anniversary as a firefighter on Dec. 1.
"So that's been good," he said. "I should be thanking the City of Swift Current for being a great employer over the last 31 years and proud to be a Swift Current firefighter."
He noted the Swift Current Fire Department has a unique culture, but he only realized this after being a full-time firefighter for some time and attending a number of provincial conferences.
"After eight or 10 years in you realized that the department was kind of a leader in the province and now other departments look up to this department," he said. "So yeah, kind of proud of that."
He mentioned in response to a question about his advice to young people looking for a career that he actually never planned to become a firefighter. He followed in his dad's footsteps and farmed, but then life took him on a different path.
"So I guess I never initially started out to be that, but then got interested in it and of course I love it in my personality," he said. "But as far as young people, I guess if you're interested in it, there's lots of information out there and I would say talk to the guys at the hall."