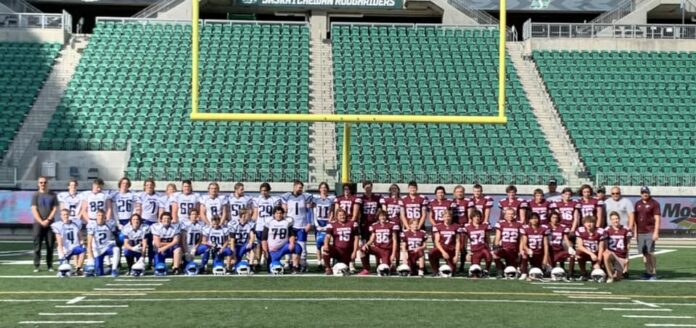 It has been an exciting start to the school sport year. Our five fall activities (golf, cross country, soccer, football and volleyball) have started practices and competitions. Schools are also actively recruiting officials. SWAC is willing to train anyone interested in officiating and a perk is you can make money officiating our junior and senior sports.
SWAC/SHSAA have been working hard to provide opportunities for training of new volleyball officials. The SHSAA held an online one hour youth 'intro to officiating" clinic. The clinic is now posted on the SHSAA youtube site.
Gull Lake is hosting an 'on the court' learn to officiate volleyball clinic on Tuesday, Sept 12 from 6:30-8:30. This clinic is a beginning/novice clinic (best suited for grade 9-adults, but there is no age restriction). This is a perfect clinic if you've never officiated volleyball.
The first official SWAC playoff is Wednesday, September 13. The Eastend Streambank Golf Course will host the district golf championship. There are over 50 golfers registered (gr 9-12) taking part in the competition. The top four girls and top four boys advance to SHSAA provincials at Dakota Dunes on September 22-23.
The SCCHS Colts and Ardens have begun their soccer seasons. The Ardens first league game versus Moose Jaw Vanier was postponed.
The Colts went to Moose Jaw to take on Yorkton Regional boys on Saturday. They lost 8-3 to the Raiders. Next scheduled league games have the Colts meeting the Notre Dame boys on Wednesday in Moose Jaw. Also on Wednesday, the Ardens will travel to take on the Moose Jaw team. The Ardens will host the Moose Jaw Vanier Spirits on Monday at 4:30 p.m. at Irwin Field.
Swift Current had another team taking to the field on Saturday. In this early league match up, the Colts took on Moose Jaw Central in Moose Jaw. The hometown team defeated the visiting Colts 52-7. Next action for the Swift Current 12-man football team is a home game on Saturday, Sept. 16 against Weyburn.
Two of SWAC's 9-man football teams were in Regina at Mosaic Stadium on Saturday. They took part in controlled scrimmages with each other and Indian Head. It was a great opportunity for both teams to get some experience before the official league starts.
First games in the 9-man league take place this Friday. Gull Lake will host Shaunavon "under the lights." Kick off is at 7:30 p.m. Also on Friday, September 15, Maple Creek will be hosting Notre Dame for the first time this season.
Thanks to the coaches/parents who send pictures of SWAC school sport competitions to SWAC Sports. It helps so much to get pictures during or immediately after competitions. Feel free to share pics to 306-295-7751. Just indicate what team is involved and when/where it took place.
The Chinook School Division Sports Report is submitted by Val Gordon.