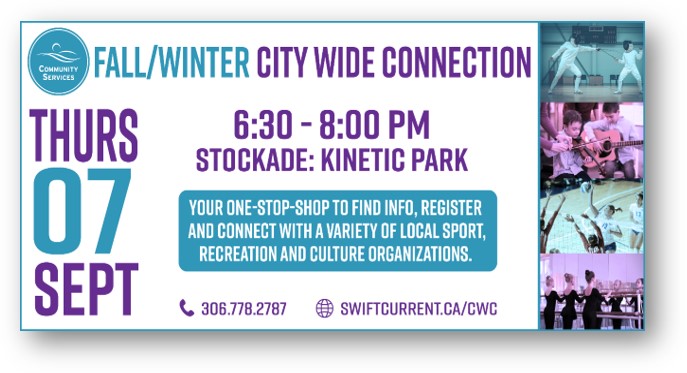 On Thursday, September 7th, the greatly anticipated City Wide Connection event will take place from 6:30 PM – 8:00 PM at the Stockade building in Kinetic Park, for its Fall & Winter edition.
"City Wide Connection is a great way for members of our community to have the opportunity to find out more information, learn how to get involved, or register for upcoming programs," states Brad Woods, Partnerships and Events Coordinator. "Our goal is to provide a one-stop-shop kind of opportunity that connects participants with providers in a variety of local sport, recreation and culture organizations."
City Wide Connection invites attendees to ask questions, see what their options are, and find something that interests them. It can be particularly invaluable in familiarizing newcomers to the area, or new members to the community, with ways to become included, create friendships, and make lasting connections.
Fall/Winter City Wide Connection night will feature over thirty (30) community groups in attendance, representing culture, recreation, and sports activities for all ages.
For more information regarding City Wide Connection, please contact the Community Services Division at 306-778-2787 or visit www.swiftcurrent.ca/cwc.