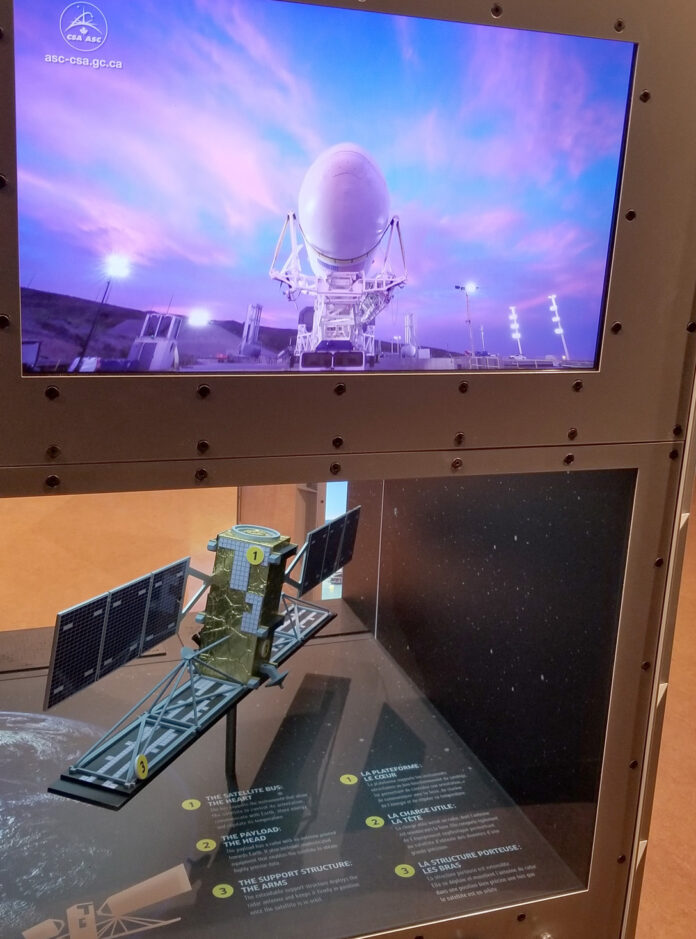 By Matthew Liebenberg
For the Southwest Booster
Anyone visiting the latest exhibition at the Swift Current Museum will not only be thanking farmers for the food on their plate, but also the Canadian satellites providing vital information to the agricultural industry.
The travelling exhibition Space to Spoon demonstrates how data from these Earth observation satellites benefit Canadian farmers and sustainable agriculture.
It opened at the museum in mid-July and will be on display until Sept. 10. Melissa Shaw, the City of Swift Current's general manager of cultural and aquatic services, said it is an informative and entertaining exhibition for all ages that highlights the benefits of satellites to our daily lives.
"I love how it ties space technology to what happens every day with Canadian farmers and how we rely so heavily on the observations and the information from satellites to make sure that our farmers are able to farm in the most efficient way they can," she mentioned.
She noted it is very appropriate for the museum to host this exhibition in a region with intensive agricultural practices.
"For this area it's a hugely fitting exhibition," she said. "We have a lot of farmers around here and I think a lot of people take for granted how the two worlds of technology and farming can be so closely related together."
The exhibition was developed and produced by the Canada Agriculture and Food Museum for the Canadian Space Agency. It has already travelled to a variety of locations across Canada and at the end of the current display in Swift Current it is scheduled to go to the United States for an exhibition at the Museum of Innovation and Science in the city of Schenectady, New York.
"It fits both larger spaces and smaller spaces," she noted. "It's great to travel and can hit a wide range of demographics and interest levels pretty easily."
The exhibition consists of four free-standing modules with a variety of interpretive surfaces and interactive elements.
"There's some different screens and there's some activities that you can run through," she said. "So far everyone seems to be quite enjoying it."
It includes a model of a Canadian RADARSAT satellite and a continuous video with footage of a satellite launch and deployment above the Earth.
A prominent feature of the exhibition is a display of striking images that are streamed on some of the screens on the modules.
"The photos are absolutely stunning," she said. "The colours, the way they pair together and how the streams all work are pretty impressive."
Information in the exhibition indicates that RADARSAT satellites have made Canada a world leader in the use and application of Earth observation technology.
There is specific detail in the exhibition about the use of information provided by RADARSAT-2, which was launched in December 2007 and orbits the Earth at an altitude of 800 kilometres.
The Canadian Space Agency collaborates with Agriculture and Agri-Food Canada as well as other international partners. Remote sensing data from this technologically advanced satellite provides information to farmers to assist them with their risk management.
One of the display panels in the exhibition includes satellite images showing crop conditions and soil moisture changes during a growing season.
Other display panels in the exhibition provide details about the even more advanced technology of RADARSAT Constellation, which is Canada's new generation of Earth observation satellites. It consists of three identical satellites launched in June 2019 and orbiting at an altitude of 600 kilometres above the Earth.
It provides more data to help farmers to maximize crop yields and to make precision agriculture a reality.
"What surprised me the most is that it's far more connected than I think anyone, including myself, realized," Shaw said about the exhibition. "I knew that satellites and GPS and all of that stuff worked together, but I don't think I realized how connected it truly was and how things such as satellite images and that information can also play such a huge part in learning what grows well, what flourishes, what doesn't flourish."
The exhibition also refers to other applications of the remote sensing date from these satellites. It can be used to determine ice conditions, which is useful to northern communities and to ships navigating through Arctic waters.
Satellite images can be used for disaster prevention and management, for example by monitoring hurricanes and providing information about flooded areas. The data is useful for monitoring ecosystem changes and developing a better understanding of climate change.
This is the second travelling exhibition on display at the Swift Current Museum this year and a third one will be coming in October.
"For us, it's a great way to bring information from a bigger stage to Swift Current," Shaw noted. "So we can ensure that we're sharing and providing a gateway for our community and our citizens in the area to learn more about things beyond Swift Current."
These exhibitions are available through Ingenium, a federal Crown corporation overseeing national museums related to science and technology.
"So by renting them from a reputable company such as Ingenium that works with some of the major museums in Canada, we can really ensure that we're providing high quality information to our community," she said.
Admission to the exhibition Space to Spoon and to the museum is free. The Swift Current Museum is open weekdays from 9 a.m. to 5 p.m. and Saturday from 1-5 p.m.