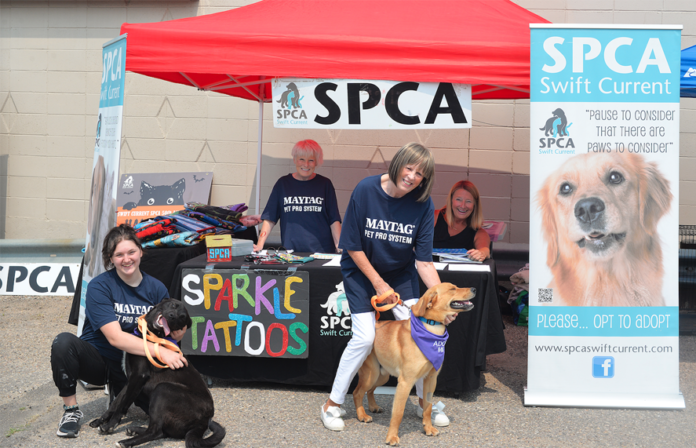 By Matthew Liebenberg
For the SW Booster
The Swift Current SPCA partnered with a local business to host an adoption fair and raise funds for the animal shelter.
The successful event was held in the parking lot of Dufresne Furniture in downtown Swift Current, July 16.
"The outcome was fabulous," Swift Current SPCA Development Manager Joanne Schatkoski said. "Thanks to Dufresne Furniture, we raised $4,700, and for sure one dog got adopted right after the fair. And there are several more on the list. They're just trying to get approved right now."
This partnership came about after Dufresne Furniture expressed an interest in assisting the animal shelter.
"They approached us a few months back and said they wanted to do something," she recalled. "We started planning and it was a great success. It was a pleasure working with them."
A raffle for a washer and dryer was very popular. Tickets sold out in less than 40 minutes and it raised $3,000. There were various things happening at the adoption fair.
"We had seven market vendors that wanted to do it and then we had the big bouncy castle," she said. "We had food and we had animals in the SPCA booth. People were welcome to come down, take a look around, play with the animals, talk about the shelter, and buy some wares from people. It was a great day."
The adoption fair helped to raise awareness about the animals at the shelter looking for a home. Schatkoski said the shelter is operating at full capacity and there is a waiting list of around 100 animals that are scheduled to come into the shelter for adoption.
"It's always like this," she noted. "There's always lots of critters on the wait list."
The Swift Current SPCA is a volunteer-directed, registered charity serving the entire southwest region. It relies on community support in the area to raise over 80 per cent of the funding required for the operation of the shelter. It therefore has a variety of fundraising activities throughout the year.
"We just want to thank everybody for coming out," she said about the adoption fair. "It was awesome and we really appreciate it. We really need that support to keep our shelter up and going."
Entries are now accepted for the 2024 Swift Current SPCA calendar. The deadline is Sept. 15 to submit photos of pets. Various spots are available in the calendar at entry fees ranging from $5 to $20.
The Swift Current SPCA 10th Annual John Mueller SPCA Radiothon will take place on Aug. 26. The organization will celebrate five decades in the community with their 50th anniversary gala on Oct. 21 with entertainment by the popular band Men Without Shame.
Information about animals available for adoption and upcoming fundraising events are on the Swift Current SPCA Facebook page and website (www.spcaswiftcurrent.com).