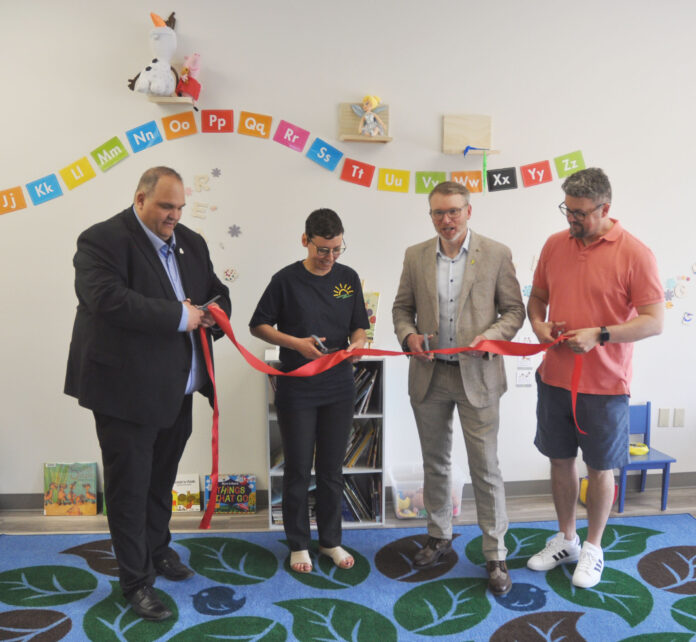 By Matthew Liebenberg
For the Southwest Booster
The creation of an inviting space with resources to support families with young children was celebrated during the grand opening of the Swift Current Early Years Family Resource Centre.
The event was held at the non-profit organization's renovated location at Hillside Plaza, May 30. There were remarks by dignitaries, a ribbon cutting and tours of the facility.
Laura Beddome, the executive director of Swift Current Early Years Family Resource Centre, said staff have been able to experience the benefits of the larger and upgraded space since moving to the new location in mid-December 2022.
"It is fantastic," she noted. "We are so excited and grateful for the ability to keep changing up the space and utilize it fully, and to leave it set up and have all of our programs and services offered from this space."
The 4,400 square feet space underwent detailed renovations to make it suitable for their needs. It includes a large play space for different programs to promote learning through play, a classroom for the pre-school program, a meeting room, a multi-purpose room, a modern kitchen, two washrooms, and office space.
"We gave great thought with the renovation and the selection of this space to being visible and accessible to families in our community," she said. "We really strive to have an environment of inclusivity and welcome here at our centre. I think we're succeeding. We're creating the space that we want so that everyone is able to come and enjoy and benefit from the services available here."
The new location made it possible to expand existing programs and offer some new programs. Let's Play, a popular drop-in play program, is now offered on more days and at more times.
"We've been able to offer some new programs based on the interest of families," she said. "So we have a support group for new moms. That's a brand-new offering that we're putting on. We are now able to host various community partners from the Health Authority, the education system and community-based agencies to connect with families and offer some of their programming from here."
She added that the ability to accommodate those additional services at their new and larger location is an important benefit.
"We continue to learn what interests families have and what our community partners have available to offer," she said. "So we'll just keep going and evolve and offer everything we can into the future."
The programming at the Early Years Family Resource Centre is offered to families with children under the age of six years. Swift Current is one of 15 locations for this service in Saskatchewan.
The Family Resource Centre has been operating in Swift Current for nearly two decades before it received an opportunity last year to formally become an Early Years Family Resource Centre.
It benefitted from a funding announcement in March 2022 by the governments of Canada and Saskatchewan to support three new centres in the province. The funding is provided through the Canada-Saskatchewan Early Learning and Child Care Agreement.
The initial start-up funding of $215,000 for the Swift Current Early Years Family Resource Centre was used for the renovation and setup of the new location at Hillside Plaza. There will be ongoing funding to support its operation.
Swift Current MLA Everett Hindley said the grand opening is an important day for families in and around Swift-Current and southwest Saskatchewan.
"The Family Resource Centre has been providing service to families in our area for quite some time now, but this is an important step forward," he said.
He had an opportunity to learn more about the organization's activities soon after his election as MLA and it became one of his priorities to support their efforts to secure additional funding.
"They knew they had the potential to expand what it was they were doing, but were limited by the funding that they had available to them at the time," he said. "And so through a number of conversations with ministers of education, I was fortunate to have the opportunity to lobby on behalf of the group here for this, to help join the ranks of other family resource centres across the province."
Swift Current Deputy Mayor Ryan Switzer congratulated the organization on its grand opening in the new space.
"I know that this is going to make our community stronger," he said. "We appreciate the added sense of community provided to our citizens through the programs you offer."
He referred to the importance of support services and programs for families with young children in the community.
"Early years are formative, much more than many of us realize," he said, "And it's critical for families to be able to access wellness and support to help identify and build the skills that support child development. Families need learning opportunities for their young ones through play, art, music, and movement."
The Holy Trinity Catholic School Division is the accountable partner for the funding allocated to the Swift Current Early Years Family Resource Centre. Director of Education Ward Strueby said the school division was eager to be a partner in this initiative, because it understands the importance of parents and families in the education of children.
"This isn't just another facility, nor a brick-and-mortar structure in our community," he said. "It represents our collective commitment to families, our belief in each other's potential, and a concrete step towards creating an environment where every family can thrive and prosper."
He referred to the dedication of everyone involved in the process that made it possible to celebrate this grand opening. He and Beddome visited six other centres in the province to look at their sites and to see what they were doing to support families.
"The journey to this day has been paved with tireless efforts, endless enthusiasm, and unwavering commitment from many dedicated individuals and organizations," Strueby said. "From site selection, construction, purchasing materials, and programming, it has been quite the journey."
The Holy Trinity Catholic School Division will continue to play a role to support the work of the Early Years Family Resource Centre in Swift Current.
"We look forward to extending and expanding our community planning table and listening to family input so that we can get better every single day," he said. "The opening of the Family Resource Centre was just the first step. The centre will provide free programming for all families with children under six. A place where families can come together. As we move forward, let's remember that this facility will only be as strong as we make it. We look forward to future partnerships to meet the needs of this community."