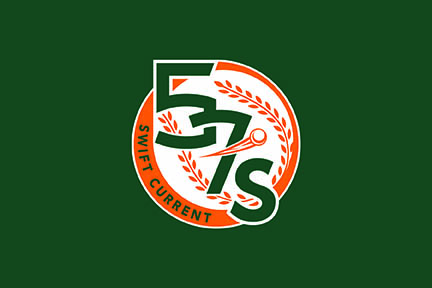 The Swift Current 57's will open the 2023 Western Canadian Baseball League regular season on Friday when they host the Regina Red Sox at 7:05 p.m. at Mitchell Field.
This will be the first season for the 57's under the guidance of Head Coach and General Manager Tim Brown. The 57's finished with a 29-27 record last season, third in the East Division.
The 57's roster features five local players, led by returnees Brody Alexandre and Dawson Schultz.
Alexandre hit .396 for the Trinidad State Trojans over 30 games this season. He scored 25 runs and had 24 runs batted in to go along with six doubles and six home runs in his freshman season. Alexandre was tied for fourth in the WCBL last season with eight home runs to go along with 25 runs scored and 31 RBIs.
Schultz was a midseason addition last summer for the 57's and struck out 21 batters over 22 innings in 13 appearances. He had a 2.88 earned run average over 43.2 innings with the Prairie Baseball Academy Dawgs this season.
Swift Current's Ethan Murdoch had a dominating season with 18 home runs, 81 runs batted in, and 75 runs scored in 60 games played as the 6'2'' sophomore outfielder helped McCook Community College to a 37-25 record. He is set to join the 57's this summer after missing last season due to injury.
Swift Current's Rydell Adair and Connor Choo-Foo, both members of the U18 AAA 57's, are also listed on the 57's roster as affiliate players.
The only other returning players are pitchers Kenny Jinks and Patrick Tangen and outfielder Cory Bonstrom.
Bonstrom hit .338 in 54 games last season. He finished with 30 runs scored, 34 runs batted in, 22 walks, and 18 stolen bases. The Tucson, AZ product hit .299 with 29 runs scored, 10 RBIs, and nine stolen bases in 27 games with the Southwestern Oklahoma University Savage Storm this season.
Jinks was sixth in the WCBL in 2022 with 61 strikeouts over 51.2 innings. The Cartersville, GA product finished with a 3.48 earned run average and a 4-1 record in the regular season.
Jinks had an 8-2 record with the Wheeling University Cardinals this season. He struck out 71 over 64 innings.
Tangen pitched two scoreless innings this season with the Mayville State University Comets. He tossed 58 innings over 16 appearances last summer in Swift Current.
A gruelling 56-game schedule will begin with four games in May, followed by 24 games in June. The 57's will also play 24 games in July and another five regular season contests in August.
The 57's and Red Sox will play four games against one another in a six-day span. They rematch on Saturday and Sunday in Regina. The Red Sox will be back at Mitchell Field on Wednesday.