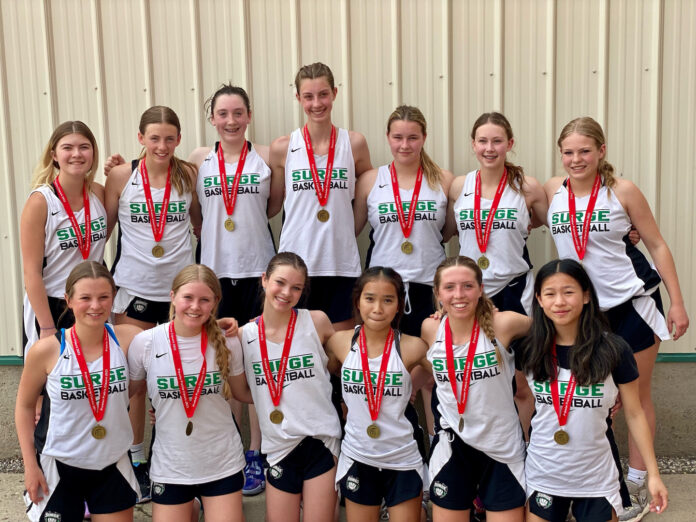 The U15 Surge girls basketball team won three straight games to win gold at the 2023 Premier Prairie Classic in Moose Jaw.
The Surge won the opener 54-42 over the Moose Jaw Spartans. They trailed by one point after one quarter, but outscored the Spartans 16-7 to take the lead by halftime. Danica Jackson led the Surge with 20 points and was named the Player of the Game. Milana Dyck followed with nine points and Talyah Cuthbert added eight points.
The Surge followed up with a 47-38 win over the Saskatoon Slam Tigers. Jackson led the way with 11 points, followed by 10 from Bree Pavely and seven from Naimy Regier. Aftyn Bakus was named Player of the Game.
The Surge defeated Medicine Hat Badlands 48-43 in the championship game. They led 39-37 after three quarters before holding Medicine Hat to six points in the final frame.
Jackson led the Surge again with 21 points. Cuthbert added eight points, while Regier and Pavely each added six points. Zoe Gottselig was named Player of the Game.
The U15 Surge will be in Regina for the BSI Club Championships this weekend.