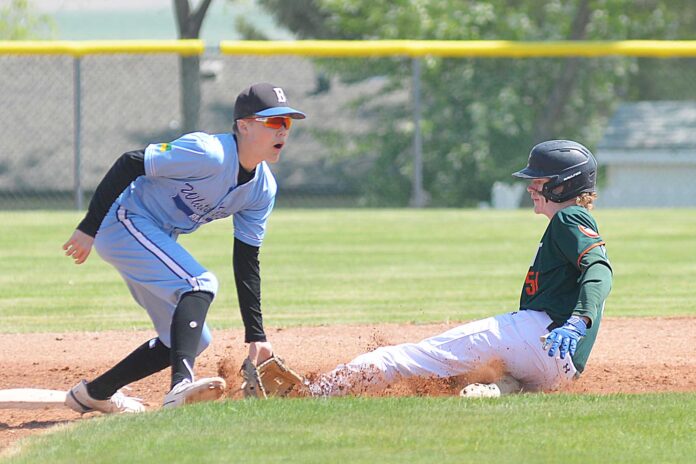 The host Swift Current 18U AAA 57's won two of four games at the Saskatchewan Selects Tournament over the long weekend. 
The 57's opened the tournament with a 10-8 walk-off win over the White Butte Broncos on Friday. Rydell Adair hit a two-run home run in the bottom of the seventh inning to break an 8-8 deadlock after the 57's had fallen behind 5-0 in the first inning. 
The 57's responded with a three-run second inning and a five-run third inning to take an 8-5 lead. White Butte scored three runs in the top of the seventh inning to tie the game. 
Ty Switzer led the pitching effort with three scoreless innings in relief, allowing only one hit and one walk while striking out two. 
The Adair brothers provided the bulk of the offense. Kyrell Adair tripled, singled, walked, stole a base, and scored twice. Rydell Adair homered, doubled, scored twice, and had two runs batted in.
Catcher Aidan Robinson singled, doubled, and finished with three RBIs out of the nine-hole. Emmit Wiebe and Hudson Unger each singled and scored twice in the win. 
Saturday, the 57's were out-hit 13-3 in a 14-0 loss to the Saskatoon Cubs. Carson Rokochy singled and stole a base in a losing cause. 
Sunday, the 57's edged the Calgary Cubs 3-2. Rydell Adair tripled and scored twice in the win. Danon Funk doubled in the first inning to bring two runs home. 
Kyrell Adair earned the win as he struck out eight over six innings while allowing two runs. Ethan Bailey got the final three outs to preserve the win, striking out two without allowing a hit.
Monday, the 57's lost 13-10 to the Saskatoon Diamondbacks. The game was tied 10-10 before Saskatoon scored three runs in the top of the seventh inning.
Rydell Adair and Carson Rokochy both hit home runs in the loss. Adair finished a triple short of the cycle, with two runs scored and four runs batted in.
Rokochy, Wesley Olson, and Hudson Unger all had two-hit outings.
The 18U AAA 57's will return to league action this weekend with a double header on Saturday beginning at 1 p.m. against the visiting Saskatoon Diamondbacks. They will also host the Regina Wolfpack on Sunday at 1 p.m. for two games.