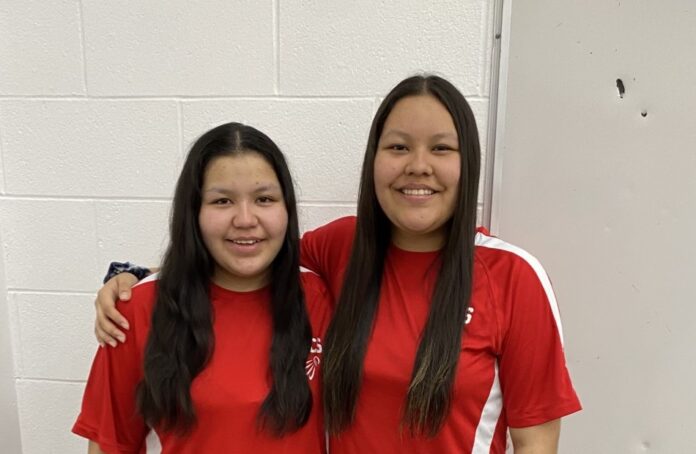 SHSAA BADMINTON PROVINCIALS
The Maple Creek duo of Khali and Kahlen Delorme took part in the SHSAA Provincial Badminton Championship in Unity on Saturday. The top eight girls doubles teams in the province were vying for the provincial title.
The girls had a record of 1-2 after pool play and didn't advance into the playoff rounds. They had a win over Rocanville (21-13, 21-19), and losses to Walter Murray (14-21, 13-21) and Leoville (22-20, 17-21, 13-21). Khali and Kahlen needed one more win to get into the medal rounds, which made the three-set loss even more heartbreaking.
TRACK AND FIELD
With invitational meets behind them, SWAC teams are now focussed on the District playdowns, with an eye on the SHSAA Provincial championship for some athletes.
All of our track and field meets take place on the all weather facility in Swift Current. Events start at 10 a.m. and the meet should wrap up around 4 p.m.
This is the only sport in which every SWAC school takes part. There are four age groups competing: Bantam (gr 6-8), Intermediate, Junior and Senior. Participation in the older age groups is limited to grade 9-12 (and which age groups you are in is determined by your birth date).
SWAC Blue (Rolling Hills) section track meet is Tuesday, May 16. Teams taking part are: Gull Lake, Herbert, Stewart Valley, SCCHS, Waldeck, Ecole Centennial, All Saints, Irwin, Hodgeville, Ponteix, Vanguard, and Wymark.
SWAC White (Whitemud/Cypress Hills) section track meet is Wednesday, May 17. Teams taking part are: Cabri, Hazlet, Success, Fox Valley, Leader, Maple Creek, Consul, Eastend, Frontier, Shaunavon High, Shaunavon Public, Val Marie.
The top four athletes from Blue and the top four athletes from White, in each event, will advance to the SWAC District meet on Wednesday, May 24.
SHSAA Provincials are in Saskatoon on June 2-3 for the intermediate, junior and senior age groups.
The Chinook School Division Sports Report is submitted by Val Gordon