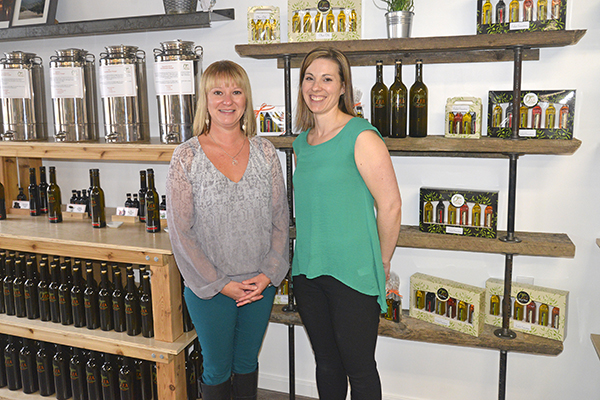 A business offering a new way to tempt your taste buds celebrated their official grand opening in Swift Current on February 18.
Olea Oil and Vinegar Tasting Room hosted a well attended grand opening last Saturday, taking the opportunity to tour new customers through their store and offer samples of their many flavoured products. The store boasts a selection of 18 olive oils and 28 Balsamic Vinegars which help add some pizzazz to ordinary dishes.
Brigitte Price and Amanda Leibel opened Olea back on October 7, but after a busy start at their store in the Carmel Mall they simply hadn't been able to find an earlier time to have a formal opening celebration.
"Swift Current's been really supportive. Lots of really good feedback. Lots of people saying we're so glad that Swift finally has something like this," explained Leibel.
Novice visitors to the store are put at ease thanks to a hand out explaining what they should look for on the shelves.
"If you haven't been in before, we give you a 'cheat sheet' which gives you all the flavours of balsamic vinegars and olive oils across the top, and then it pairs them together. So it tells customers what oils and vinegars go together," Price said.
"On the back of that are suggested uses. So whether you want to cook chicken or salmon or steak or stir fries, it tells them which flavours go nice on different types of food. Because people are very overwhelmed when they come in. That kind of helps them out, and gives them a bit of a guide."
They have been pleasantly surprised by the number of people who are versed in cooking with olive oils and balsamic vinegars, but note that newcomers are equally excited about trying their products.
"I feel that we're getting both. We have the people that have used them before from other stores. Some people came in right away and just went to the big bottles because they knew what they wanted. We also have the beginners that come in and say 'I've never used this, what do I do?' And then we just kind of guide them, starting with the basic oil that we would use and then go from there."
They sell their products in four different bottle sizes (60 ml, 200 ml, 375 ml or 750 ml), allowing customers to get smaller amounts of items they want to try and graduating to larger bottles of items they will frequently use.
"If you know that you're not going to be using one as much, you would get the little bottle. If you're just testing, start with the little bottle," Price said.
"The Tuscan Herb Oil is the most popular oil in the store," Price added. "That's the one that I feel that we're filling quite a bit because it's pretty versatile for everything and anything. It's good on everything."
But Leibel quickly pointed out there are numerous uses and product mixtures which help make dishes more vibrant.
"You can pair that with apple vinegar and that's good on your pork and chicken. It's good on your salads. For your fish, Wild Fernleaf Dill Olive Oil with Sicilian Lemon Vinegar is really good. Maple and Butter is good on salmon. Honey Ginger and Garlic, or Honey Ginger and Sesame is also good on your fish, your stir fries, your chicken, your pork."
"Some of the things that people don't realize you can do is put the vinegars in your water for flavouring. So a lot of the white balsamics we sell are for water flavouring. It's all natural, no artificial colours or flavours, no sugars added to them, so it's a really healthy way to flavour your water too."
Price and Leibel also offer private tasting nights, off site tastings, and they will soon be adding cooking demonstration nights.