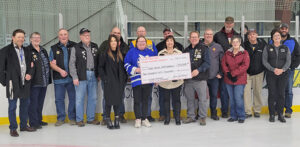 A two-year long fundraising effort by Cabri and area residents has come to a successful conclusion after reaching a $250,000 goal to purchase new digital radiology equipment for the Cabri Prairie Health Care Centre.
The campaign conclusion was announced before the puck drop at a Cabri Bulldogs Whitemud Hockey League playoff game on February 3.
The $250,000 campaign, which was officially launched back on January 12, 2021, will allow the facility to replace a long obsolete film x-ray machine and purchase a digital radiology system which is the standard technology needed in healthcare.
The campaign made steady progress over the past two years, reaching the halfway mark of $125,000 by April 2021, and by January 2022 they announced the campaign was at the $185,000 mark. The final push to raise the remaining $65,000 occurred over the ensuing 12 months.
Jim Dekowny, Executive Director of the Dr. Noble Irwin Regional Healthcare Foundation, announced the campaign completion by saluting the efforts of the dedicated fundraising group.
"Two years ago, starting in January 2021, the Foundation partnered with the Cabri Ladies Hospital Auxiliary to raise money to go towards a new Digital X ray machine for the Prairie Health-Care Centre. Funds donated to the Auxiliary were received from personal and memorial donations, business and corporate donations, as well as fundraising events held throughout the last two years," he said during the February 3 on ice celebration. "I am very pleased to announce that after two years of fundraising for a new Digital Xray machine for the Prairie Health- Care Centre, our goal of $250,000 has been reached!"
"This would not be possible without the support of everyone contributing from Cabri and the surrounding communities."
The Foundation was joined on the ice by representatives from the groups and communities which contributed to the campaign's success.
"These groups, along with the members of the community, deserve all the credit for the success of this extraordinary campaign. Every donation, small or large, helped us achieve our goal."
The Saskatchewan Health Authority has been informed the funds for the equipment are in place, and the anticipated installation of the equipment is projected to begin this fall. Funds from the campaign will also be utilized to renovate the current x-ray room to accommodate the new equipment.
The campaign was launched in order to deliver improved x-ray imaging at the Cabri Prairie Health Care Centre. It is expected the number of x-rays will quadruple from the current yearly average of 247 x-rays because of the improved digital images which can then be accessed by physicians and specialists in making better diagnoses and determine courses of care.