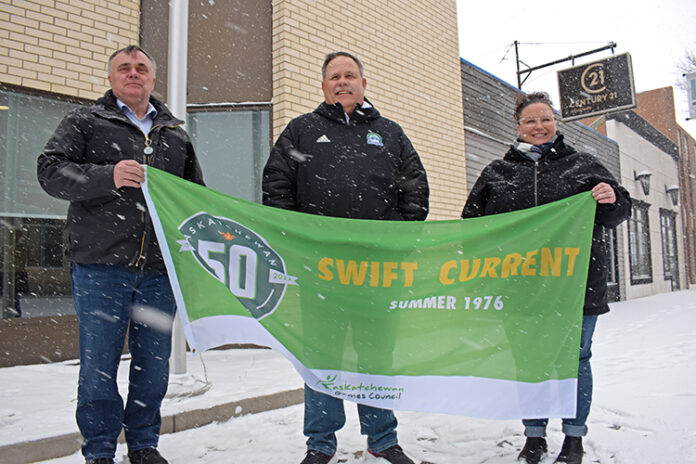 A commemorative flag is currently flying over Swift Current City Hall in recognition of Swift Current hosting the 1976 Saskatchewan Summer Games.
Swift Current is participating in a flag exchange program organized by the Saskatchewan Games Council, where all 14 municipal flags from previous hosting communities will fly outside Athletes Village for the seven days of the 2023 Saskatchewan Winter Games in Regina. Simultaneously, a commemorative flag denoting the years each host community held a games will fly in their communities for the duration of the Games.
The 2023 Saskatchewan Winter Games, which run February 19 to 25, which will mark the biennial multi-sport games program's 50th anniversary. The Saskatchewan Games program was first established in 1972, providing athletes a chance to develop while participating in a multi-sport competition.
The first ever Saskatchewan Games were hosted in Moose Jaw in the summer of 1972, while the first Saskatchewan Winter Games were held in North Battleford in 1974.
Swift Current was the third community to host a Saskatchewan Games, and the Games hosted on August 10 to 15, 1972 were an all-age competition in 18 different events. Approximately 2,000 athletes competed in the following events: archery, softball, cycling, diving (at the Fairview Pool), equestrian, field hockey, golf, lacrosse, soccer, baseball, swimming, tennis, track and field, trapshooting and water Polo (hosted at the 2nd Ave. Pool), while sailing, canoeing and water skiing were hosted at Lac Pelletier.
Zone Three was runner-up in the 1976 Summer Games Aggregate Points with 116, finishing just being Zone 6 (Saskatoon) who had 117.5 points.
Zone Three dominated in the pool by earning 37 medals (15 gold, 17 silver and five bronze), they collected 15 track medals (two gold, eight silver and five bronze), eight canoeing medals (five silver and three bronze), four equestrian medals (two silver and two bronze), a gold, silver and bronze in trapshooting, a trio of cycling silver medals, two silver and a bronze in tennis, a silver medal in diving, a silver medal in water skiing, while in team sports Zone Three won gold and Men's Softball and bronze in lacrosse.
City of Swift Current Museum Director Melissa Shaw, who served as the co-chair of the 2019 Western Canada Summer Games hosted in the City, said sports remain an important aspect throughout the community.
"Sports have such an important part in Swift Current. I don't think anything we set our minds to we can accomplish, and Western Canada Games showed that. And who knows what the future might hold. Maybe we'll host another Saskatchewan Games, that's yet to be determined."
Summer Games
1972 | Moose Jaw
1976 | Swift Current
1980 | Estevan
1984 | North Battleford
1988 | Melfort
1992 | Prince Albert
1996 | Moose Jaw
2000 | Yorkton
2004 | Weyburn
2008 | Lloydminster
2012 | Meadow Lake
2016 | Estevan
2021 | Lloydminster (cancelled)
2024 – Lloydminster
Winter Games
1974 | North Battleford
1978 | Moose Jaw
1982 | Prince Albert
1986 | Yorkton
1990 | Melville/Ituna
1994 | Kindersley
1998 | Nipawin
2002 | Humboldt
2006 | Melfort
2010 | Moose Jaw
2014 | Prince Albert
2018 | North Battleford
2022 | Regina