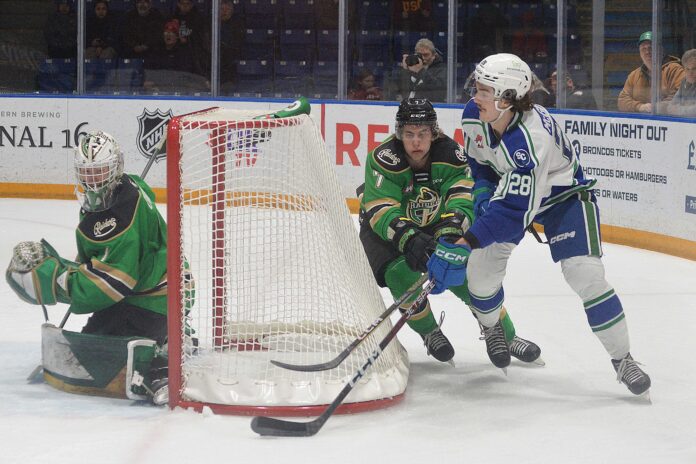 The Swift Current Broncos got 19 saves from Reid Dyck to defeat the visiting Prince Albert Raiders 4-0 on Friday.
Dyck stopped all 19 shots he faced for his first shutout in the Western Hockey League.
Sophomore forward Connor Hvidston was in on all four goals for his first career four-point outing.
The Broncos earned the initial lead in the first period when Connor Hvidston converted a Sam McGinley centering feed for his 13th goal of the season.
Brady Birnie doubled the lead midway through the second period with a wraparound goal, his 12th of the season. Birnie set up Owen Pickering for the third goal on the same shift with a centering feed from behind the net for the Broncos captain's seventh goal of the season.
Mathew Ward added a power play goal in the third period to reach the 20-goal plateau.
Dyck improved to 10-14-1-0 for the Broncos. Tikhon Chaika made 31 saves to fall to 12-19-0-0.
The Broncos moved from ninth to seventh in the Eastern Conference with a 24-21-1-2 record.
Prince Albert fell to 19–28–3-0. The Broncos and Raiders will rematch on Saturday back in Prince Albert to close the season series.