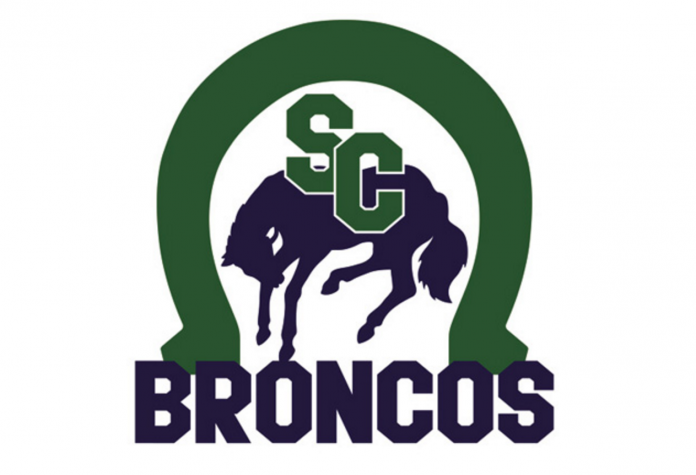 The Swift Current Pure Chem Broncos won twice at the Western Canadian Crown Invitational in the Edmonton area.
The Broncos opened the tournament with a 3-1 win over the Fraser Valley Thunderbirds on Wednesday. Griffin Darby led the Broncos with a goal and an assist. Chase Petersen and Kasey Gleim also scored. Mason Fauser, Jake Hargrave, and Tyler Hudec added assists. Cade Mitchell made 31 saves in the win.
The Broncos added a 4-1 win over the Lloydminster Bobcats on Friday. Darby had a goal and an assist and Fauser picked up two assists. Petersen, Porter Nickason, and Hudec also scored. Hargrave, Jacob Penley, Carter Moen, Gleim, and Jamie Kirwan all added assists. Mitchell made 23 saves on 24 shots.
The Broncos lost their final round robin game 4-3 to the Calgary Bisons. Fauser scored twice and Nickason added a goal and an assist, while Mitchell made 40 saves in goal. Petersen and Hargrave both added assists.
The Broncos dropped the quarter-final 6-5 in a shootout to the Calgary Northstars. Fauser led the offense with a goal and an assist, while Cole Fox made 30 saves on 35 shots. Moen, Hudec, Tysen Kobley, and Nickason also scored.
Petersen, Hargrave, Darby, Theron Watteyne, Penley, and Riley Schmiess all added assists.
The U15 AA Broncos lost the B Consolation Final 4-1 to the Lethbridge Golden Hawks. Petersen scored the only goal with an assist from Gleim. Fox made 28 saves on 32 shots.
The Broncos will return to Saskatchewan U15 AA Hockey League action on Saturday when they host the Melville Millionaires at 5:30 p.m. at the InnovationPlex. They also host the Regina Pat Blues on Sunday at 1:30 p.m. at S3 West Arena.