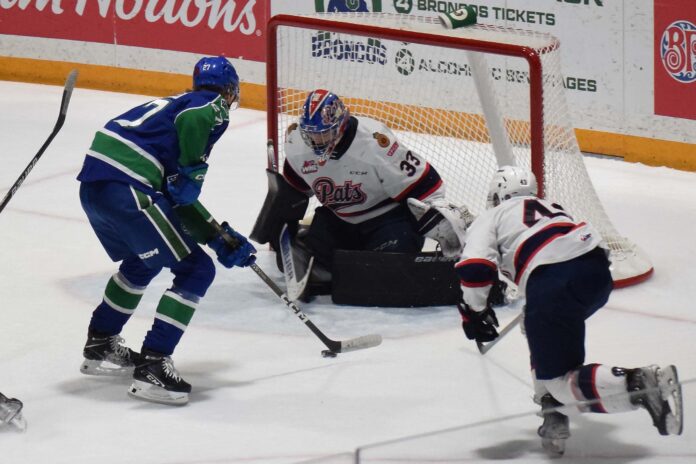 Owen Pickering scored 58 seconds into overtime to lift the Swift Current Broncos to a 5-4 win over the visiting Regina Pats on Friday.
The Broncos trailed 2-0 early, scored four straight goals in the second period, and then let a two-goal lead slip away in the third period before Pickering scored his third goal of the season to clinch the win.
The Pats took the lead with two goals in the opening half of the first period. Easton Armstrong scored his sixth goal of the season and Alexander Suzdalev scored on the power play to double the lead with his ninth of the season.
The Broncos cut the lead in half early in the second period when Mathew Ward went through his own legs and through the five-hole of Drew Sim for his seventh goal of the season.
They tied the game minutes later when Josh Davies snapped a puck under the arm of Sim for his fourth goal of the season. Connor Hvidston gave the Broncos their first lead with a top corner shot from the high slot midway through the middle stanza. Josh Filmon doubled the lead with his 11th goal of the season when he deked out Sim and scored on the backhand from below the goalline on a patient effort.
Connor Bedard kicked home a goal early in the third period to cut the Broncos lead to 4-3, his 15th goal of the season, which was allowed to stand after a lengthy video review. Bedard scored minutes later to tie the game as he fought off a check for his 16th goal of the season.
Gage Alexander improved to 5-2-0-0 with 33 saves. Drew Sim took the loss with 37 saves.
The Broncos will visit the Lethbridge Hurricanes on Saturday.
Bronco Bits: Bedard and Pats attracted a season high crowd of 2,024 at the InnovationPlex. The previous season high was 1,922 against Regina on October 14.