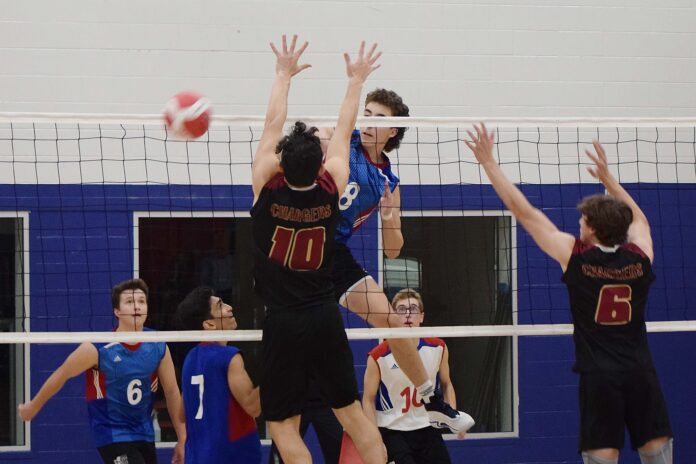 The Swift Current Comp. Senior Colts came up with late-game heroics to win their annual home volleyball tournament on Saturday.
The Colts lost the first set of the championship match and trailed late in the third set before defeating the Saskatoon Centennial Chargers (18-25, 25-23, 15-13) to win gold.
"We had kind of a slow start in the first set. We dug in, just like we did all day. A lot of our matches went three sets. The boys showed good heart and executed when they had to," said coach Darren Lehmann.
Centennial was coached by former Colts provincial championship coach Dan Andrie.
"They have four provincial team members and a lot of grade 12's on their team. They are definitely somebody we have our sights set on, trying to attain that level that they're playing at all the time. They are definitely a team that is going to be in contention at the end of the year, so we have to match their intensity. We did it today, which is awesome," said Lehmann after the Colts won their home tournament for the 19th time in 51 attempts.
The Colts had defeated Strathmore in three sets in the semi-final (25-19, 21-25, 15-7) in front of a boisterous crowd on one half of the SCCHS Gymnasium.
"It's nice having the home fans behind you and get jacked up when we get a few hits. It's always nice to win at home," said Lehmann.
The Colts finished atop their initial pool with wins over Fox Valley (25-15, 25-13), Regina Campbell (25-18, 25-19), and Weyburn (25-10, 25-17). They added wins over Regina Winston Knoll (27-25, 25-17), Meadow Lake (15-25, 25-18, 25-22), and Moose Jaw Vanier (6-25, 25-21, 15-6) in their next pool to advance to the playoffs.
The Colts appear to be rounding into form. They had won the 16-team University of Saskatchewan Huskies tournament one week earlier.
"We have a lot of young guys. Each week they're taking a step and getting a little bit better, a little bit more confidence. If we can get their confidence up there then I think we should be alright when we get to provincials," explained Lehmann.
The defending 5A provincial champions have been getting every team's best shot this season.
"There is five or six teams that are kind of around the same so you have to be on your game to win each weekend. We're striving to do that each weekend," said Lehmann.
Swift Current will host 5A SHSAA Provincials on Nov. 18-19.
"We have to tighten up our defense a little bit. Hitting-wise, we did a really good job today. Serving was a strong point for us. We can keep working on that and add a little bit of defense and we should be in contention at the end of the year," said the decorated coach.
The Colts will be off for Thanksgiving and then head to Prince Albert for a tournament the following weekend.