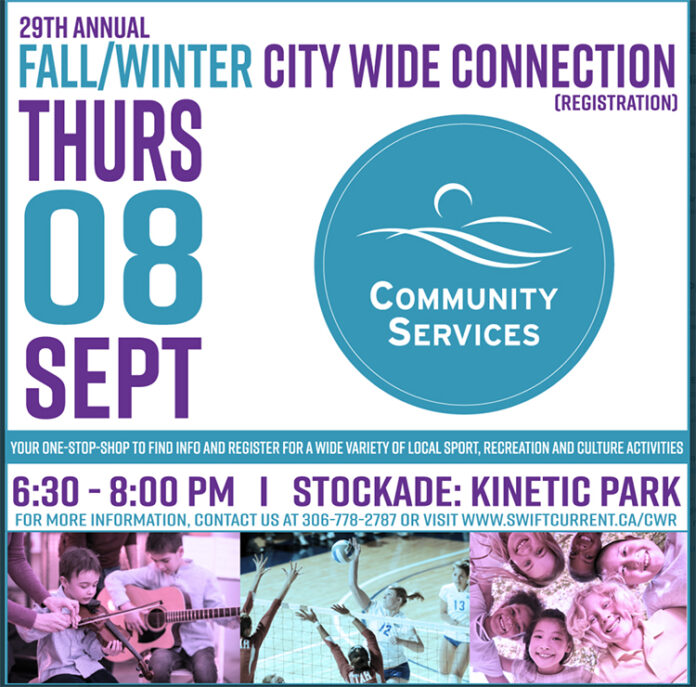 City Wide Connection on September 8 provides the community with numerous opportunities to learn more about fall and winter activities and programs in Swift Current.
Formerly known as City Wide Registration, the new City Wide Connection boasts a 28 year legacy of providing a one-stop registration location for families. The rebranded event will provide the opportunity for attendees to ask questions, see what their options are, and find out how to get involved with various sports, programs, clubs, and arts and culture events.
The sport, recreation, culture and community information event runs from 6:30 p.m. to 8 pm. at the Stockade building at Kinetic Park.
"City Wide Registration has been taking place in our community for 28 years. It has been a great way for members of our community to have the opportunity to register for upcoming programs," states Community Recreation Coordinator, Krista Caswell. "As we move forward with technology, many groups have moved to online registration, therefore, in person registration might not be the focus for all groups. Our role now is to provide an opportunity that connects participants with providers."
Over 30 community groups will be in attendance at City Wide Connection:
4-H Saskatchewan
Art Gallery of Swift Current
Backstage Dance Co.
Canada Revenue Agency (Community Outreach)
Canadian Tire Jumpstart
Family Resource Centre
Group 2 Swift Current Scouts
Kiwanis Club of Swift Current
Royal Canadian Air Cadets 605 Tarry Squadron
Safe Places
SaskAbilities
Saskatchewan Health Authority – Public Health Nursing
South West Victim Services
Southwest Saskatchewan Pride
Special Olympics Swift Current
Swift Current Aquatic Centre
Swift Current Branch Library
Swift Current Fencing Club
Swift Current Judo Club
Swift Current Oratorio Choir
Swift Current Outdoor Hockey League
Swift Current Sledge Hockey
Swift Current Soccer Association
Swift Current Wheelchair Basketball
The Centre (Swift Current Community Youth Initiative)
The Dance Studio of Swift Current
The Social Bowl
Gelico Gymnastics
Scouts Canada
Swift Current Agriculture & Exhibition Association
Swift Current Archery Club
Swift Current Barracudas Swim Club
Swift Current Christian Tae Kwon Do
Swift Current KidSport
Swift Current Titans Wrestling Club
Velocity Taekwondo
Swift Current Judo Club
For more information regarding City Wide Connection, contact the Community Services Division at 306-778-2787 or visit www.swiftcurrent.ca/play.