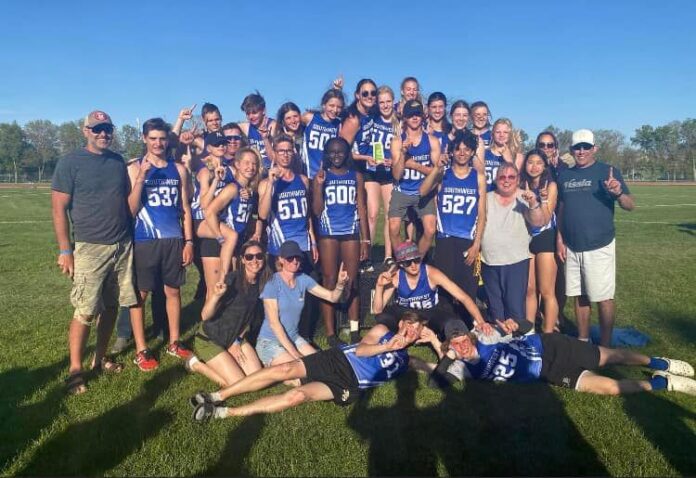 The Swift Current Comp. Colts and Ardens track and field team won a third straight school title at SHSAA Provincials in Regina on June 3-4.
SCCHS ran away with the 5A school title with 446 points, well ahead of the second-place Saskatoon Walter Murray with 361 points.
Leading the way for the Colts was Carter Tuplin with a pair of medals on his way to the Intermediate Boys aggregate points title. He finished with 57 points, well ahead of Holy Cross' Yerosen Daba with 48 points.
Tuplin won gold in the 400 Metres in 55.25 seconds to edged out Raimon Libanos at the finish line. He added a silver medal in the 100 Metre Hurdles in 14.74 seconds.
The Colts' Rowan Reimer tied for fourth in the Intermediate Boys standings with 41 points. Reimer won gold in the 1,500 Metres in 4:36.13.
The Ardens' Olami Akinfiresoye was fourth in the Junior Girls Division with 52 points. She won gold in the High Jump when she cleared the bar at 1.51 metres. Akinfiresoye added a bronze medal in Long Jump with a top effort of 4.76 metres.
Hillary Lacelle placed fifth in Senior Girls with 48 points.
Dani Meyer added a gold medal in the Intermediate Girls 400 Metres in 1:01.56.
Matt Unger won silver in the Senior Boys Shot Put with a 13.60-metre heave.
Over 100 athletes represented SWAC at Provincials and the district finished with 11 medals overall.
Eastend's Jace Egland added gold in the Intermediate Boys Javelin with a throw of 43.64 metres to edge out Wakaw's Christian Ward by 34 centimetres.
Shaunavon's Madden Wallis earned silver in Senior Boys High Jump when he cleared the bar at 1.86 metres.
Gull Lake's Brynne Leppa added a silver medal in the Junior Girls Shot Put with a throw of 9.41 metres.
Frontier's Myra Halderman claimed a bronze medal in Senior Girls Discus with a 29.30-metre throw.
The Frontier Raiders finished seventh in the 1A school standings.