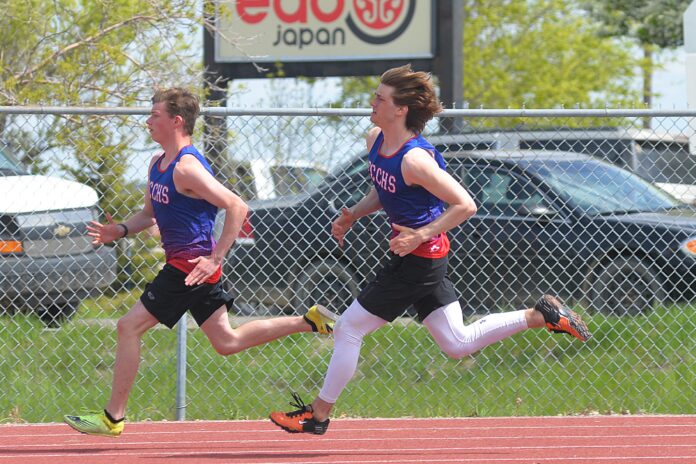 Another nine individual records fell on May 25 at the SWAC District Track and Field Meet in Swift Current.
Colter Folk, representing All Saints Catholic School, set three records in the distance events. He set the Bantam Boys 800 Metre record at 2:23.33. He also established a new mark in the 1,500 Metre Run at 4:48.83 and the 3,000 Metre Run at 10:44.15.
Swift Current's Dani Meyer sprinted her way to two new records on her home track. She set a new mark of 12.75 seconds in the Intermediate Girls 100 Metre Dash and added record time of 1:01.05 in the 400 Metres.
Ardens teammate Olami Akinfiresoye added a new record in the Junior Girls 100 Metre Dash in 12.78 seconds.
The SCCHS Colts' Carter Tuplin set a new record in the 400 Metres in 55.20 seconds.
Emily McCleary, representing All Saints, added a record in the Bantam Girls Long Jump of 4.14 metres.
Wymark's Callie Ebner set a new Bantam Girls Shot Put record of 9.36 metres.
One relay record also fell when the Blue Combo B 'A' team set a Bantam Girls 4×100 Metre Relay record in 56.32 seconds.
Kyler Duclos, from All Saints, won the Bantam Boys aggregate title with the maximum 40 points.
Ebner and McCleary tied for the Bantam Girls aggregate title with 36 points apiece.
Meyer topped the Intermediate Girls aggregate standings with 40 points.
Tuplin won the Intermediate Boys aggregate title with 40 points.
Akinfiresoye also accumulated the maximum 40 points to claim the Junior Girls aggregate title.
The Colts' Kaleb McBurney won the Junior Boys aggregate title with 38 points.
The Ardens' Paris Appel easily won the Senior Girls aggregate title with 38 points.
The Colts' Wyatt Retzlaff won the Senior Boys aggregate title with 28 points as the host team swept the six aggregate titles.
The top two finishers in the Senior, Junior, and Intermediate age groups will represent SWAC at the SHSAA Provincial Championship in Regina on June 3-4.