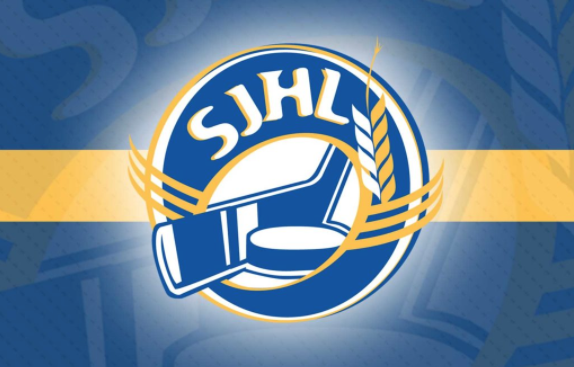 Wymark's Keagon Little won a Saskatchewan Junior Hockey League championship with the Estevan Bruins on Friday. The host Bruins won game seven of the championship series 2-0 over the Flin Flon Bombers to win their first league title sine 1999.
Kian Calder scored the game-winning goal in the second period and Olivier Pouliot scored a power play goal in the third period in front of 2,662 fans at Affinity Place on May 6. Playoff Most Valuable Player Boston Bilous earned the shutout with 29 saves.
Estevan topped the regular season with a 43-10-2-3 record.
Little registered eight goals and 25 assists in 53 regular season games. The rookie forward added four points in 16 playoff games.
The Bruins also featured former Swift Current Broncos forward Eric Houk. Houk contributed 18 goals and 28 assists in 55 regular season games and then added three goals and 10 assists in 16 playoff games. The Regina product skated in 134 games with the Broncos from 2018-21.
Former Broncos defenseman Billy Sowa played in 10 post-season games for the champion Bruins. Sowa finished with four goals and 18 assists in 52 regular season games. Sowa played in 68 games with the Broncos from 2018-2020. He had stints in the Alberta Junior Hockey League and British Columbia Hockey League before joining the Bruins this season.
The Centennial Cup will take place in Estevan on May 20-29 featuring 10 teams, including both the Bruins and Bombers.
The Bombers were fifth in the regular season with a 34-21-2-1 record. Former Swift Current Legionnaires forward Jaxon Martens registered two goals and nine assists in 18 playoff games. Martens was third in team scoring with 19 goals and 27 assists in 58 regular season games. The Warman product skated in two seasons for the Legionnaires from 2018-20, including 38 points in 43 games in his second campaign.
Former Swift Current Broncos defenseman Rylan Thiessen added two goals and eight assists in 14 playoff games for Flin Flon. He registered five goals and 21 assists in 33 regular season games after playing 22 games with the Broncos in the WHL to start the season. Thiessen began his WHL career with the Lethbridge Hurricanes before suiting up for the Brandon Wheat Kings.